We have a fundamental affinity towards nature. We take breaks from work to go away from the hustle and bustle of the city and find peace in nature's cradle. What if nature comes to us at our workplace?
We are creating a one-of-a-kind place where nature meets technology, fuelled by innovation and humanity. Let us give you a sneak peek of Sunon Technological Innovation Park, our new Global Headquarters.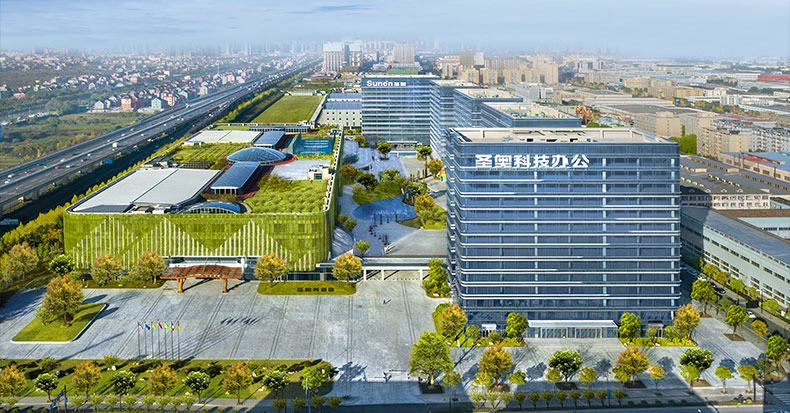 About the Park
It is located in Xiaoshan Economic and Technological Development Zone, near Hangzhou, and is only 15 minutes drive from Xiaoshan International Airport. It covers an area of about 75,333 sq. meters. and has a total construction area of 261,500 square meters.
Sunon technological innovation park incorporates concrete, wood, water, light, and other natural elements to form a unique architectural aesthetic. The park integrates product innovation and research, furniture manufacturing and sampling, scenario-based experience, furniture testing, woodworking experience, industry information exchange, talent education and training, live e-commerce, new product release, etc. We are committed to building a world-class "Silicon Valley" of the global office industry.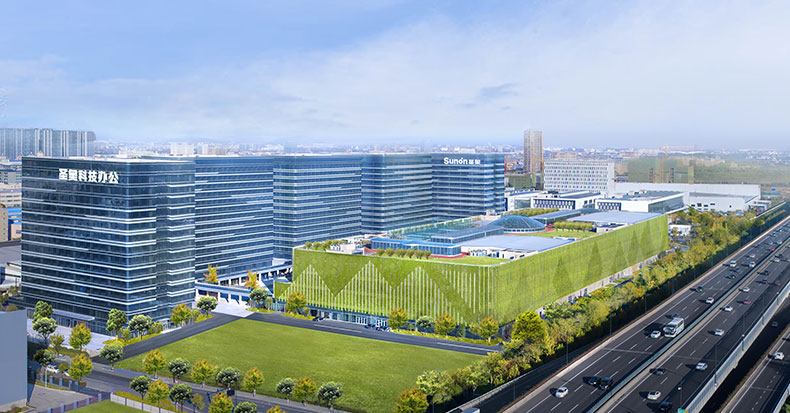 The park is formed by six buildings enclosed in a curve. Building 1 is used for testing, Buildings 2-4 are for talents' apartments, and Building 5 is for R&D. Buildings 1-5 are all designed with a glass canopy to ensure sufficient exposure to natural light.
Building 6 with its biophilic design houses the exhibition halls, office spaces, and the experience center. Building 6 uses oxygen-rich plants to improve the micro-environment of the space, creating roof gardens, vertical greening, natural gardens, etc. The aromatic vegetation in different seasons wafts sweet fragrances, benzyl alcohol, citronella, and other components that have antiseptic, disinfectant, and antioxidant effects.
Building 6: The Future of Work
The Atrium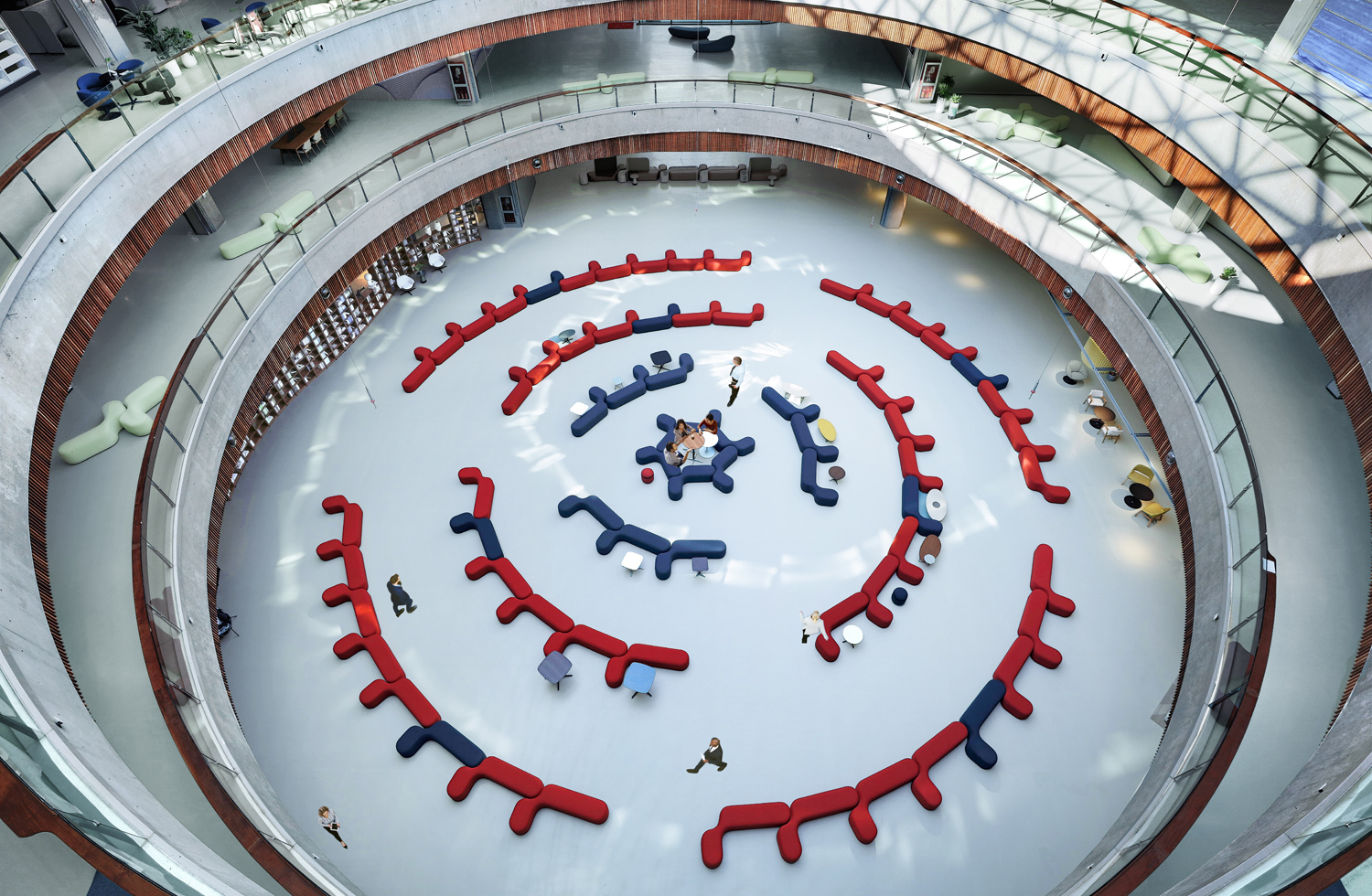 In the lobby, a space capsule called "Aerospace no.7" is presented in a rising posture. Natural light can enter from the zenith and directly fall into the bottom of the atrium, creating a world of scenery in the small universe. The Rainbow Flare spread in the atrium brings the most beautiful scenery of nature into the space. The handrail of the second to fourth floors incorporates the functional design of a coffee table, where employees can enjoy coffee, talk shop, or relax, a vivid embodiment of "office anytime, anywhere".
"After wind and rain, there will eventually be a rainbow." The Rainbow Flare that rises from the first floor to the fourth floor is one of the most attractive sights in the atrium. Its existence is a beacon of faith. After overcoming twists and turns, you will surely meet your rainbow.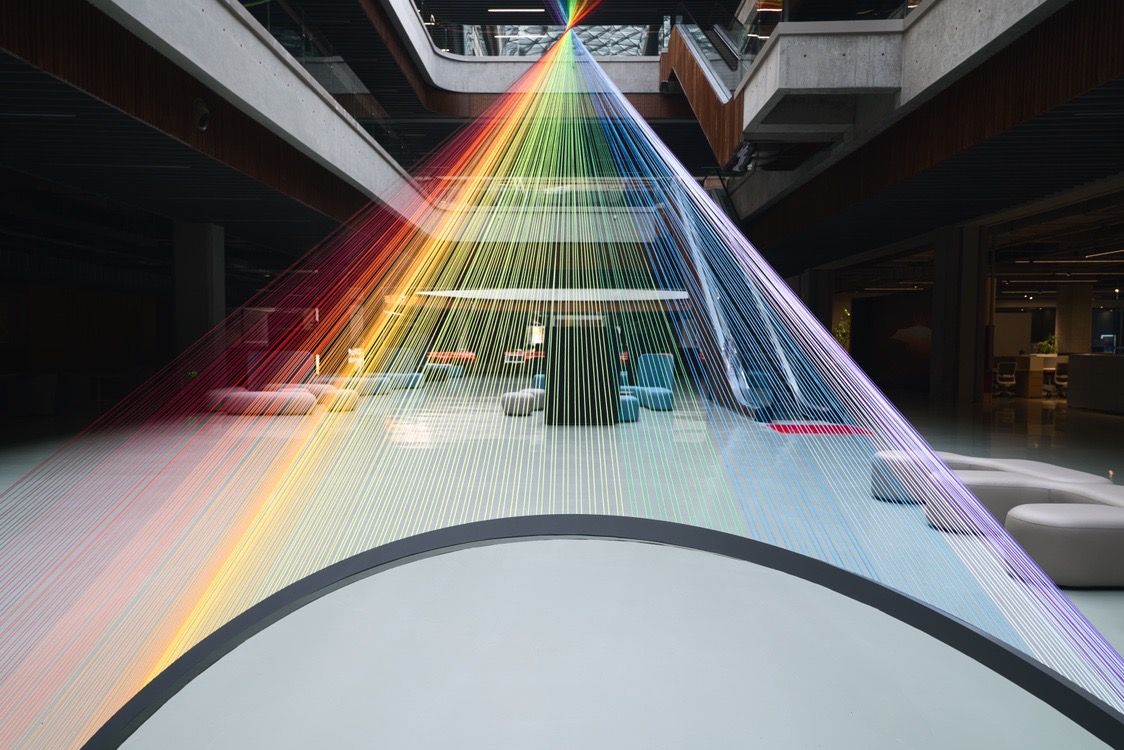 Rainbow Flare
5 Floors: Five dimensions of excellence
The first floor mainly consists of the reception area, the "Carefree Land", "Futuristic Work" "Sunon Smart Brain" and Sunon History Exhibition Hall, reflecting the time span from the past to the present and the integration of nature and technology.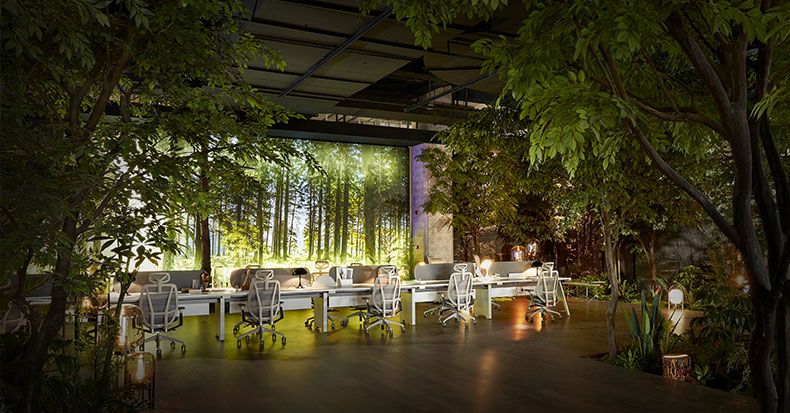 Carefree Land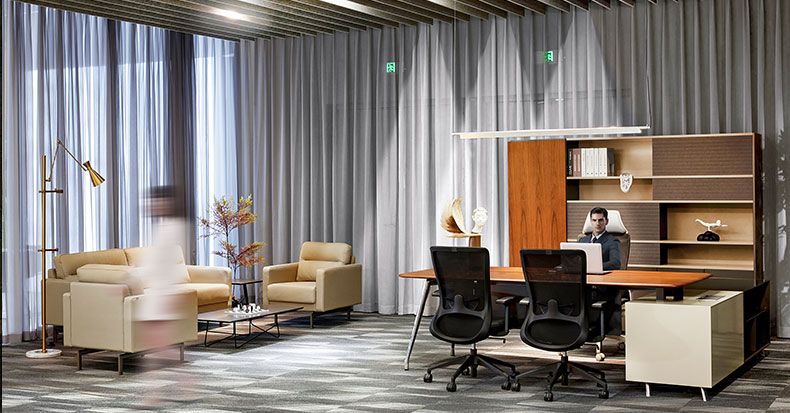 Executive Space
The exhibition area on the second floor is divided into Presidential Space, Executive Space, Government Workplace, and The Art of Chair. The exhibits are mainly wood-painted furniture, with premium quality and technological intelligence as the main features.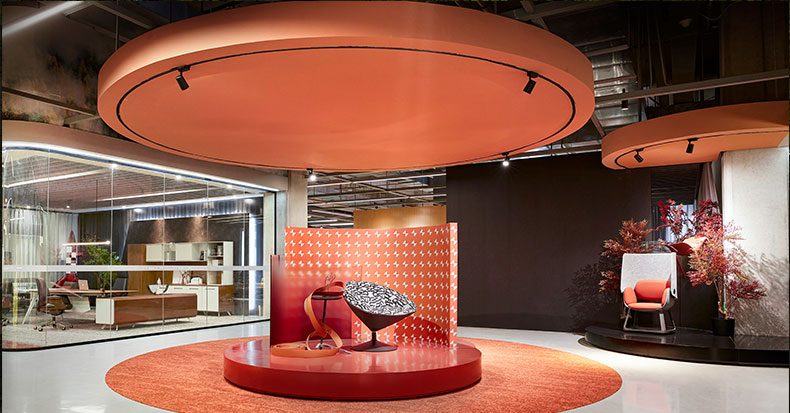 The third-floor showcases products for medical, school, bank and other public service uses. "A Cup of Tea", "Headquarter Canteen" and "The Charm of Solid Wood" formed by outsourcing products are also included. A more diversified business space will surely bring a more convenient life.
The fourth floor has an industry exchange base with product training, live photography, banqueting, and design tutoring functions.
The fifth floor is an open-air roof garden which helps you to get close to nature and helps to relieve your fatigue and anxiety. It consists of a Sunshine Track, Orchard, Happy Farm, Sports Field, and Parent-child Playground.
Sunon Park is a place of inspiration, beauty, innovation, and workplace excellence. Visit us and experience the future of work. Stay tuned for a grand tour of our exhibition halls.