Hybrid work is the way of the future, and it's here to stay. A hybrid workplace design gives you a competitive advantage, and having hybrid work alternatives is a top priority for job seekers. This is especially true of educated and skilled workers, a group that is difficult to recruit and retain.
A flexible workplace design that stimulates cooperation and provides a sense of community and comfort is required for a hybrid work style. You'll need a workplace design approach that includes a range of spaces that are tailored to various jobs. In the modern world of work, the office still has a vital role to play, especially when it comes to establishing business culture. A great workplace may become a community: a place where people can interact, learn and grow.
Desk cubicles, conference rooms, and private offices are quickly becoming obsolete. So, what should your new and improved hybrid office space look like? Let's take a look at some hybrid office layout ideas that will encourage employees to come to work to cooperate and interact with their coworkers.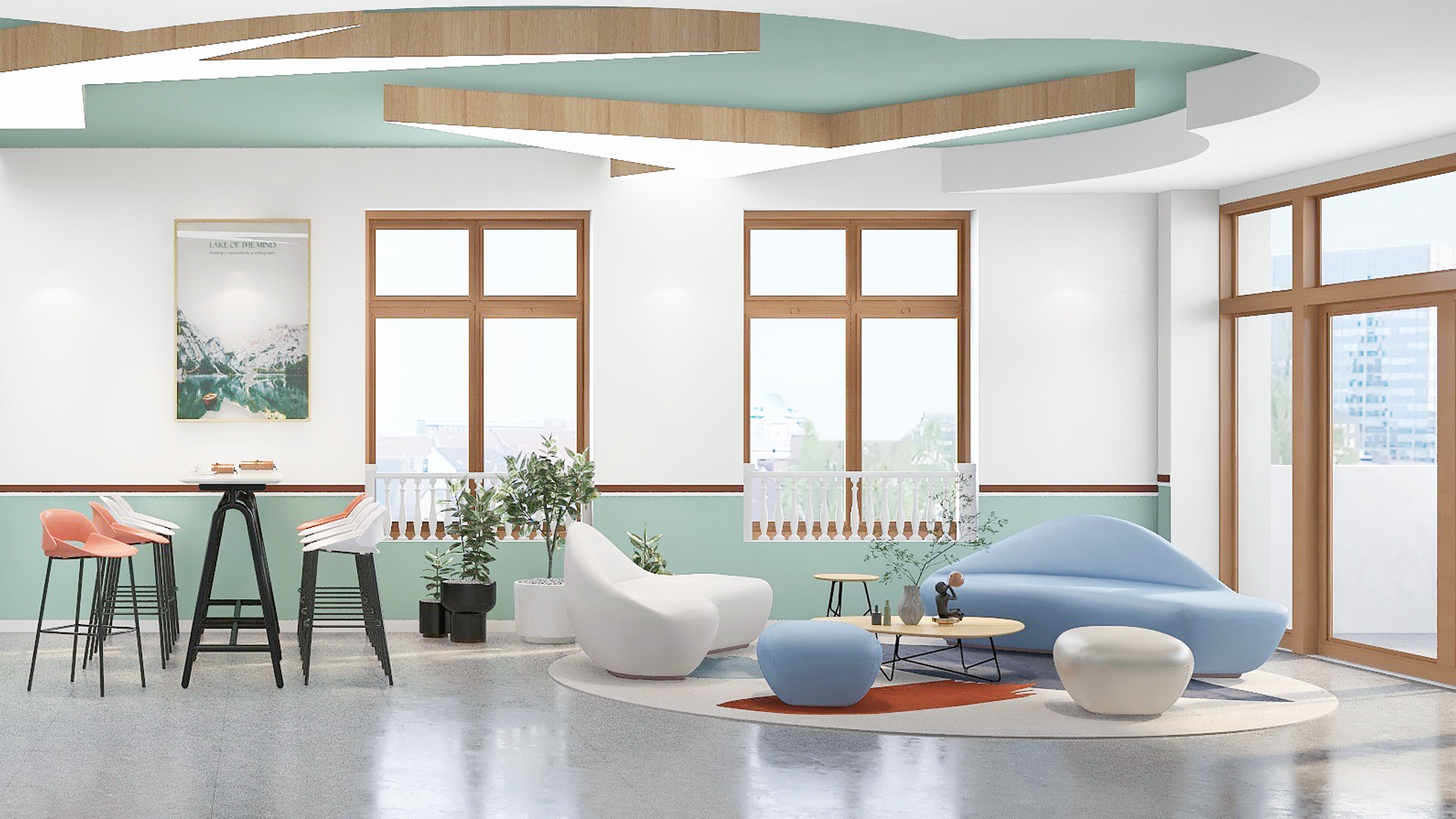 Outdoor Spaces
Being surrounded by fresh air and sunlight has a variety of health advantages, including improving focus, lowering stress, boosting creativity and happiness, and even improving short-term memory. Employees will be more likely to come to work if they have access to an outside office space. Make sure there are adequate work surfaces and seats to support many workers at once. Long tables with enough seating for six persons should suffice. Two-person tables can also be added for people who need to work alone in order to completely concentrate.
Hot Desking Hub
Hot desking describes the practice of not assigning desk space to specific employees. Individual desks, as well as a small conference room, may be booked by individuals or groups in the hot desk hub. The hot desk hub, which is a combination of solo workstations and collaborative areas that are excellent for teams, should be the main point of an open-plan office's layout. To address this need, your hot-desking solution should allow employees to schedule a set of workstations or meeting spaces for their team.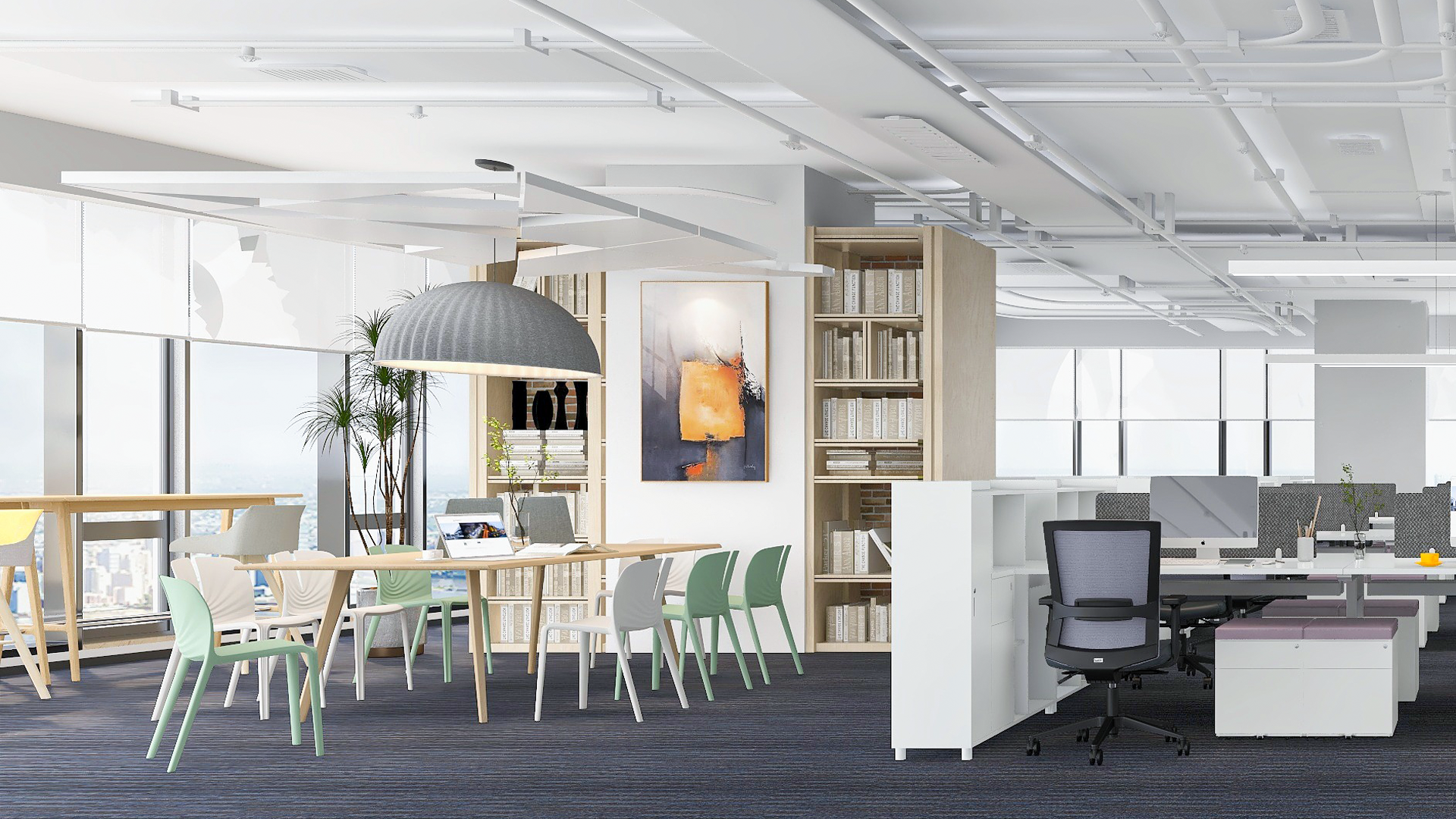 Immersive Meeting Rooms
Because complete teams will not be at the office at the same time, smaller, more intimate tables that can accommodate 6-8 people function well. For a better video conferencing experience, a soundproof room with cameras and microphones is provided. It's preferable to have a large, interactive digital screen as well. Remote employees and in-office participants will have a better understanding of each other, allowing for more efficient cooperation. The conference room, like all other spaces in the hybrid office, should be added to your booking system. The more conference rooms you have, the greater your company will be.
Café Seating
Many remote employees prefer to work at coffee shops on occasion; a similar environment may be readily produced in-house, even for a small business. Café-style seating (e.g., coffee tables, sofas, bar stools, etc.) is an excellent method to excite employees who thrive in a relaxed, lively setting. Employees will flock to areas like these to take a break and engage in the types of casual conversations that foster new ideas and mentorship.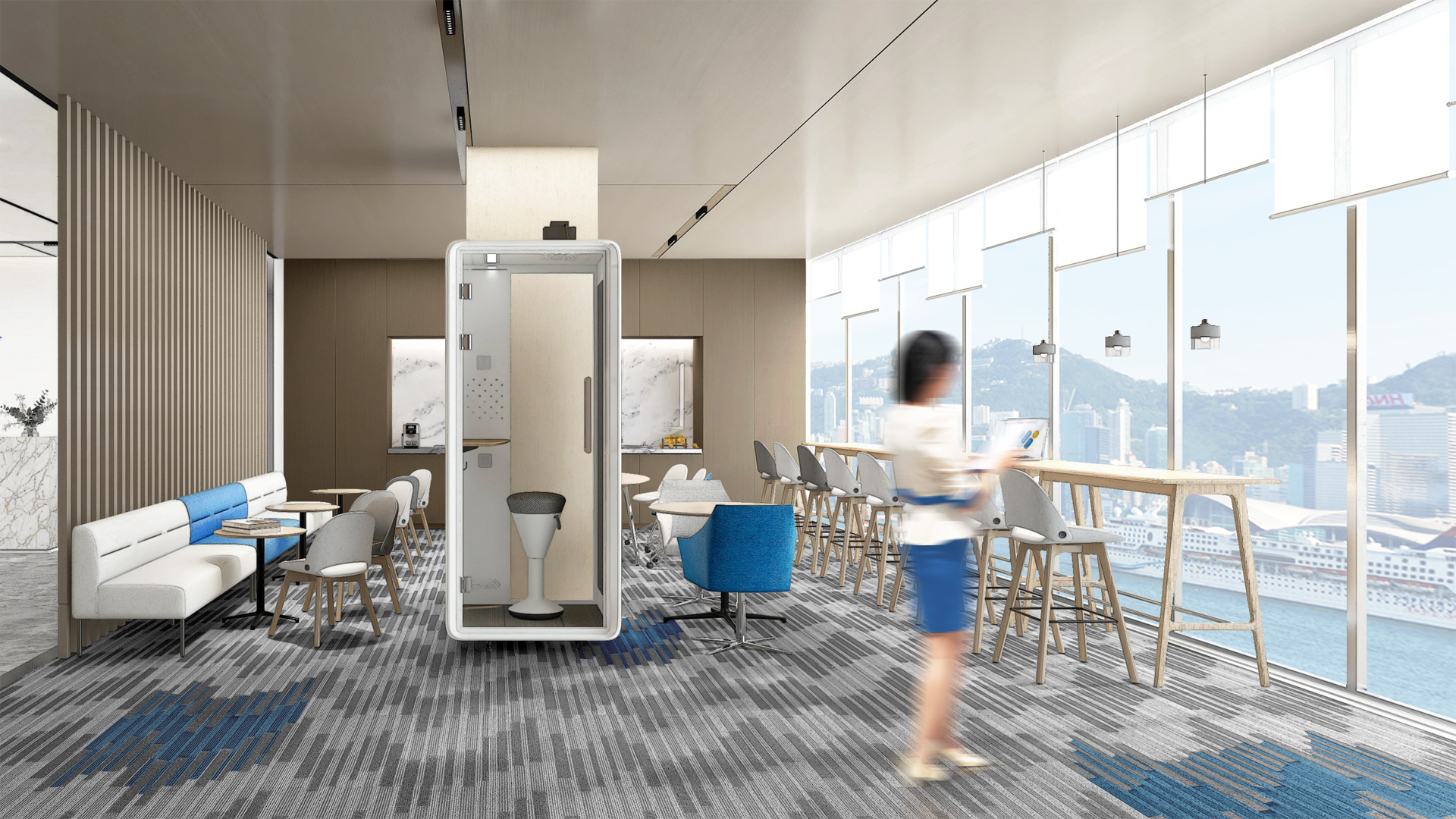 Communal Kitchen
Whether the workplace is huge or small, a shared kitchen may be used to reconnect employees on a personal level. This area is set up as an open-plan kitchen, complete with a microwave, refrigerators, and a coffee maker. It might have a kitchen island with stools surrounding it, as well as a sofa area with a coffee table. Individual details, such as a refrigerator stocked with complimentary beverages or even a barista, all contribute to the office experience. Your employees will undoubtedly use the space for lunch and to chat with their coworkers.
Home Away From Home
One of the benefits of working from home for employees was the chance to relax, change postures, and spend time that made them feel healthier and more productive. Consider providing a refuge room where employees may go if they're feeling overwhelmed, need a night of sleep, or simply to relax, read or recharge. The goal is to create environments that allow individuals to perform at their best.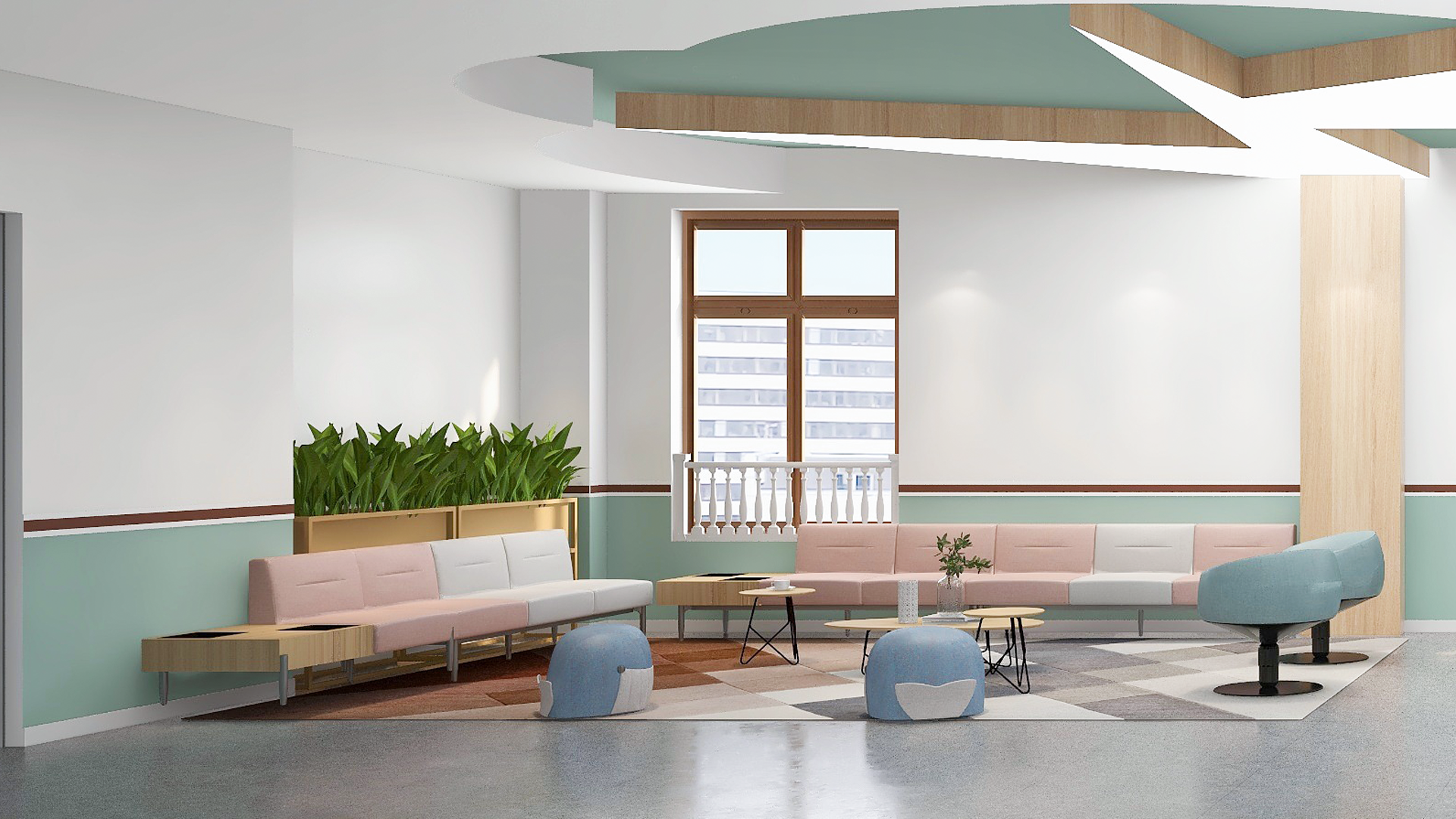 Movable Furniture
The hybrid office should be adaptable. Choose workplace furniture that can be rearranged or relocated as required. Consider caster-equipped desks and office chairs. When working on a project or simply brainstorming, employees can reconfigure their desks to create a unit, and when they want to work alone, they can push them apart.