The age of hybrid work has arrived. The pandemic has caused significant changes in our working methods as well as our expectations for how we will operate in the future. When the employees return to work, they'll want the same level of freedom that they've had over the past year. Moving forward, each business will need to develop a holistic and unique hybrid workplace that addresses the physical, digital, emotional, and psychological needs of their people.
New solutions are needed in today's offices to provide hybrid employees with what they require right now in order to provide a positive experience. These furniture options are intended to reduce workplace contact points, provide private work areas for distraction-free working, and reduce the amount of in-person meetings while still providing a central space for teams to collaborate successfully. These are easy to install and adapt to both large and small floorplans. They have cleanable surfaces, and privacy screens, and are ergonomically sound for long-term wellbeing. Let's explore 5 such office solutions.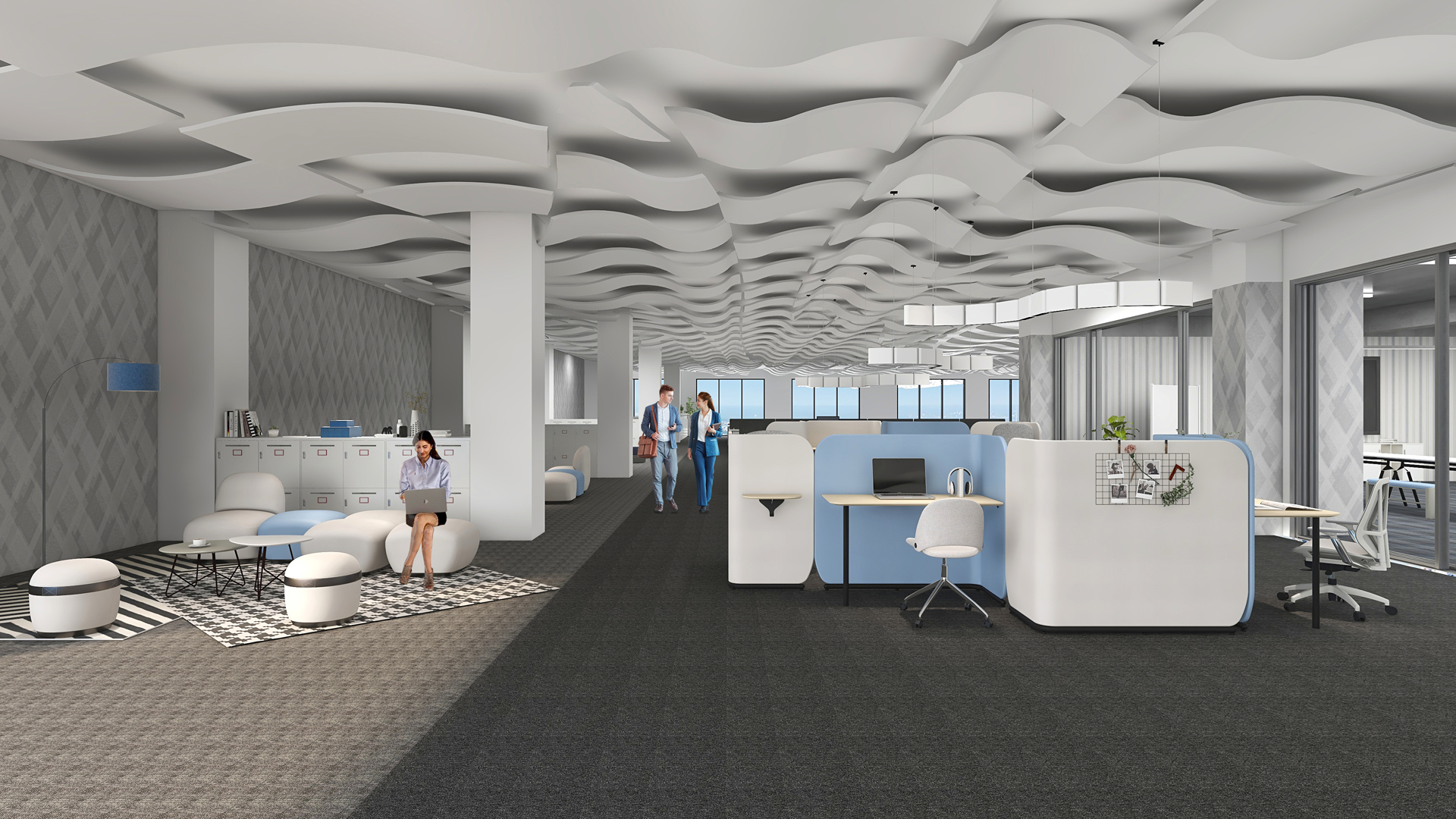 H2 Ergonomic Chair
There is no alternative to a high-performing comfortable chair. Whether you are sitting for a short time or a longer time period, an ergonomic chair assists you to do your job effectively. That is why we set out to design and create a chair that is fully adjustable and responds to the body's movement.
We spent 3 years researching 4000 sitting posture samples and developed this pioneering 4.0 dual-back H2 chair, which conforms to different people's bodies to provide dynamic spinal support. The pioneering 3D dynamic dual-backs support the fatigue-prone 4th-5th section of lumbar vertebrae, reducing the chance of lumbar subsidence and hunchback, and effectively preventing spine-related problems.
Complied with the standards of BIFMA, H2 has a human-centric design with multiple adjustment features that accommodate different body shapes and sizes.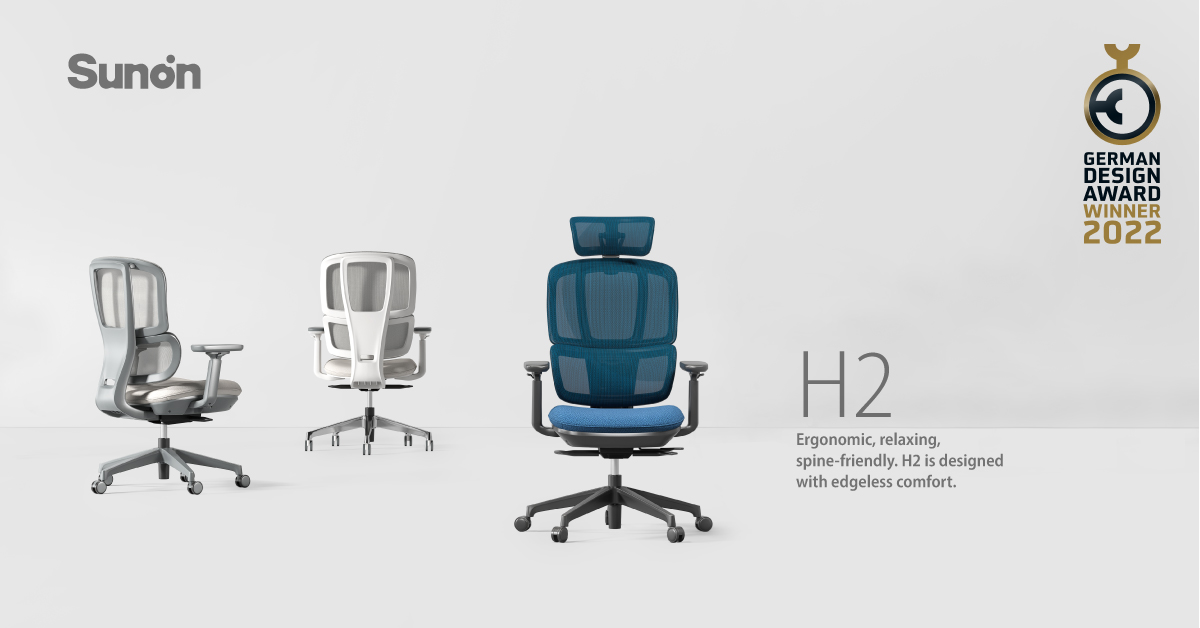 N-space Office Pods and Rabat Private Couch
Privacy is very important for a hybrid office. Being a superior version of an open office, the issue of visual and auditory privacy can be addressed with office pods and phone booths. There are adaptable solutions and have innovative ways to create your own zones.
We drew on the knowledge of acoustics and privacy to create a suite of agile furniture allows for a much higher degree of tailoring, thus creating a more individual workspace.
N-Space office pods help you say goodbye to "noise gravity" by allowing you to create a "Me space" in a "We space." Its sound insulation makes it an ideal choice for phone conversations, communication, video conferencing, and concentrated work in a shared space.
Rabat is a modern high-end and semi-private couch system that deviates from standard modeling by using a range of materials. Rabat can improve job efficiency and physical and mental health by making workplace space more flexible and open.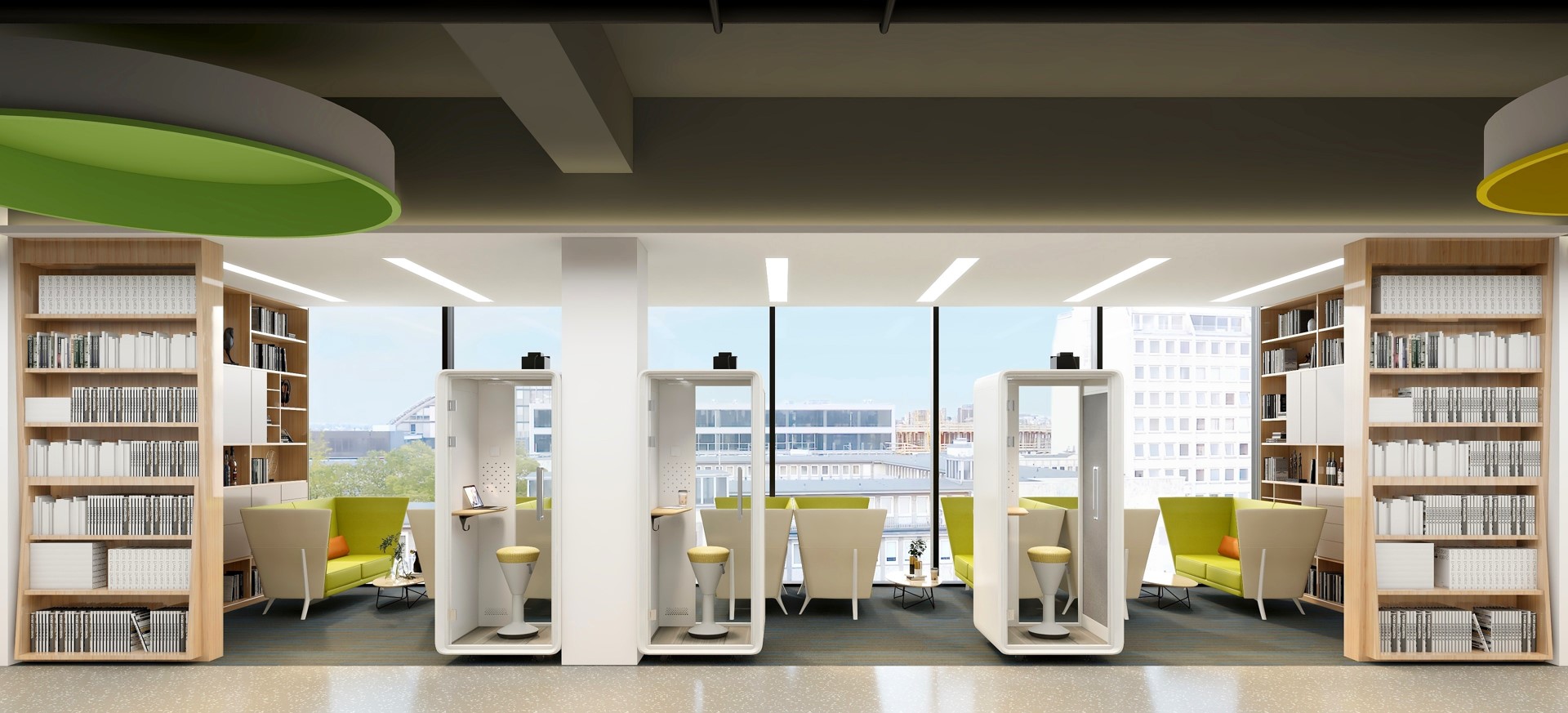 F.6 Private Lounge Seating
In the hybrid workplace, a private lounge where employees may work, make phone calls, and let others know they don't want to be disturbed is a highly useful tool. The constant interruption is one of the most frequently mentioned drawbacks of an office. In the hybrid work office, having a clear location to work in without being disturbed will be critical moving ahead.
F.6 III's modular pieces, which include couches, screens, and ottomans, play with natural hues to fulfill multipurpose demands in the complete workplace landscape. There are two types of screens available: a 30mm thin screen and a 40mm thick screen. The thin screen works well with a high-leg couch to create an ideal sociable space, while the thick screen, at 1350mm height, works well with a low-leg sofa to create a private space.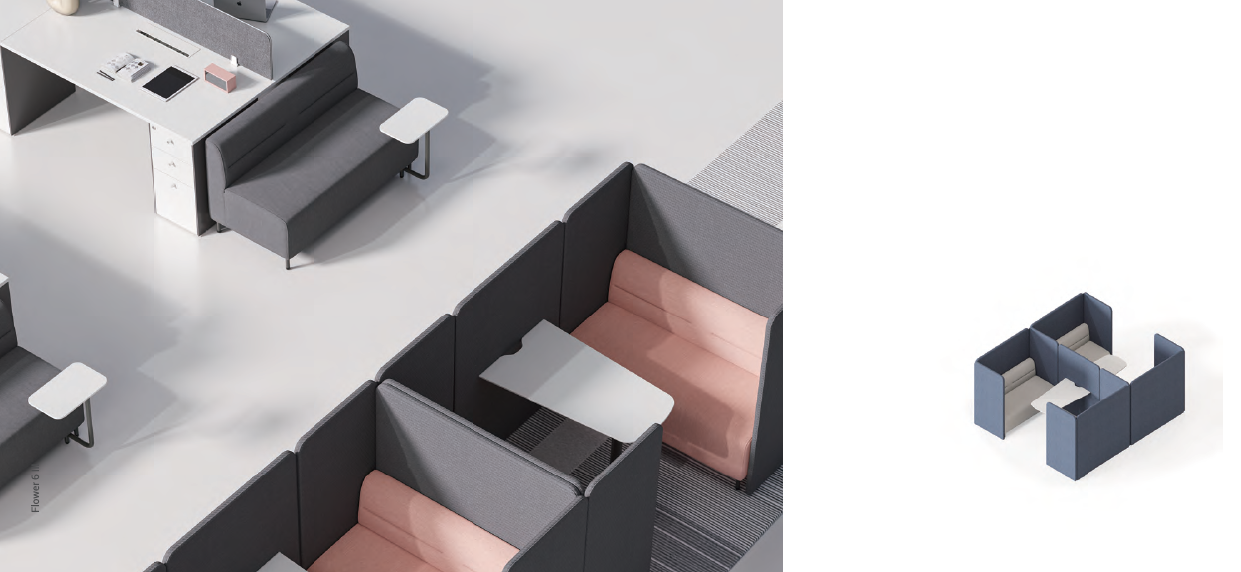 UF Mobile Semi-Private Seating
One of the main features of a hybrid office is agility and the furniture will also have to imbibe that. Only task chairs with wheels are not enough. People need new seating solutions that provide comfort and suit their different modes of work.
UF is an excellent choice for private or individual meetings on the go. They keep the numbers small and intimate with a private zoom call, one-on-one meeting, or client meeting. With UF, you may customize and choose from a variety of choices.
Invisible casters allow for smooth motions with minimal effort. Excellent sound absorption, ultra-thinness of 13 mm, and innovative fibre-stitching method produce a peaceful environment for your concentrated work.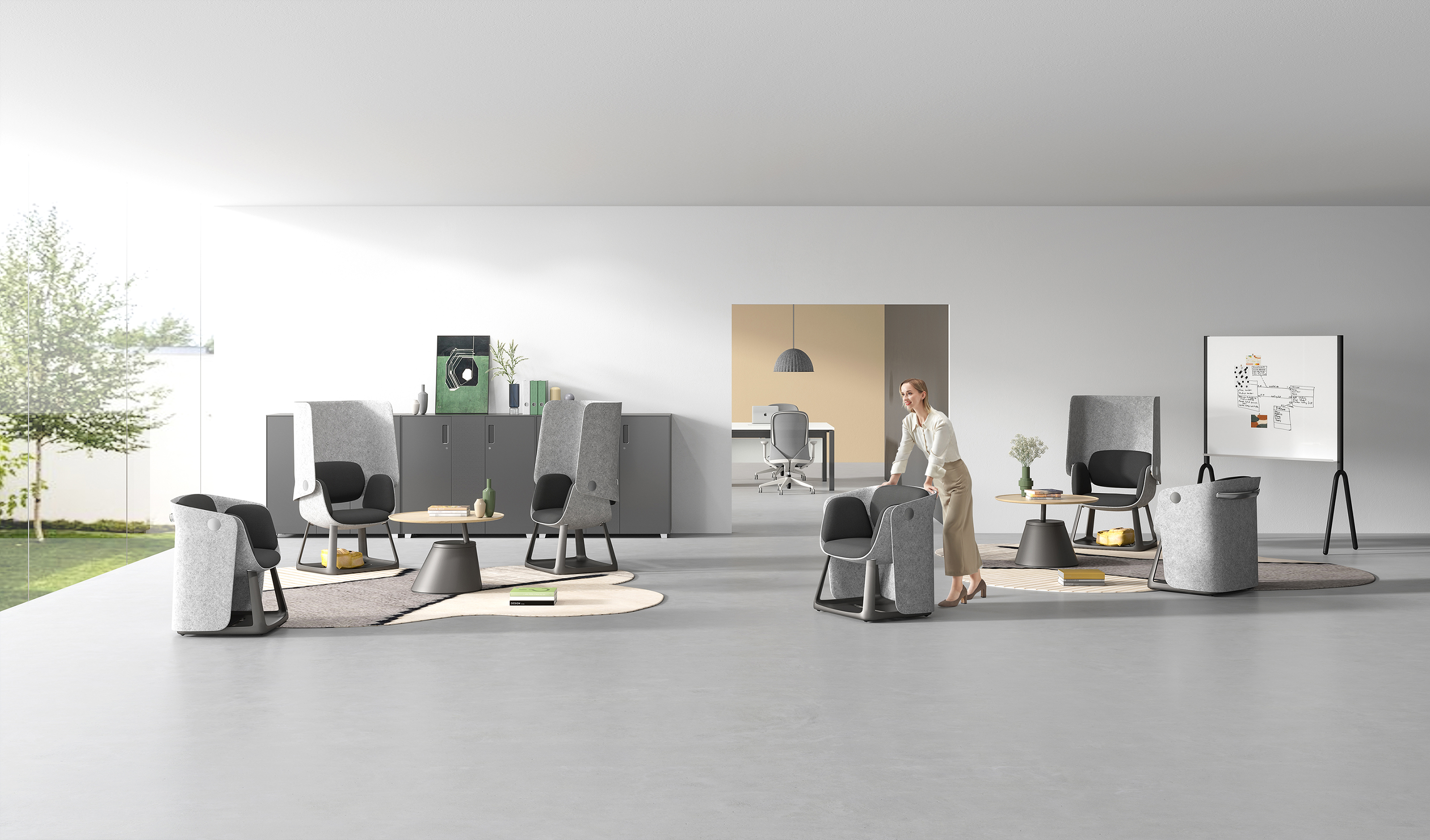 Hyle Flexible Workspaces

Workplaces will expect hybrid workers to have greater flexibility, privacy, and control. To serve these needs, we designed Hyle which assists in the formation of tiny communities for varied purposes in the middle of open landscapes. It finds a balance between openness and privacy, fostering pleasant relationships among office workers. It is inclusive but autonomous.
Whether it's for a video conference or continuous heads-down concentrate time, the highly adaptable workstations can quickly and simply adjust the orientation to obtain the amount of seclusion you require. It makes use of a sound-absorbing felt that can be completely destroyed and repurposed.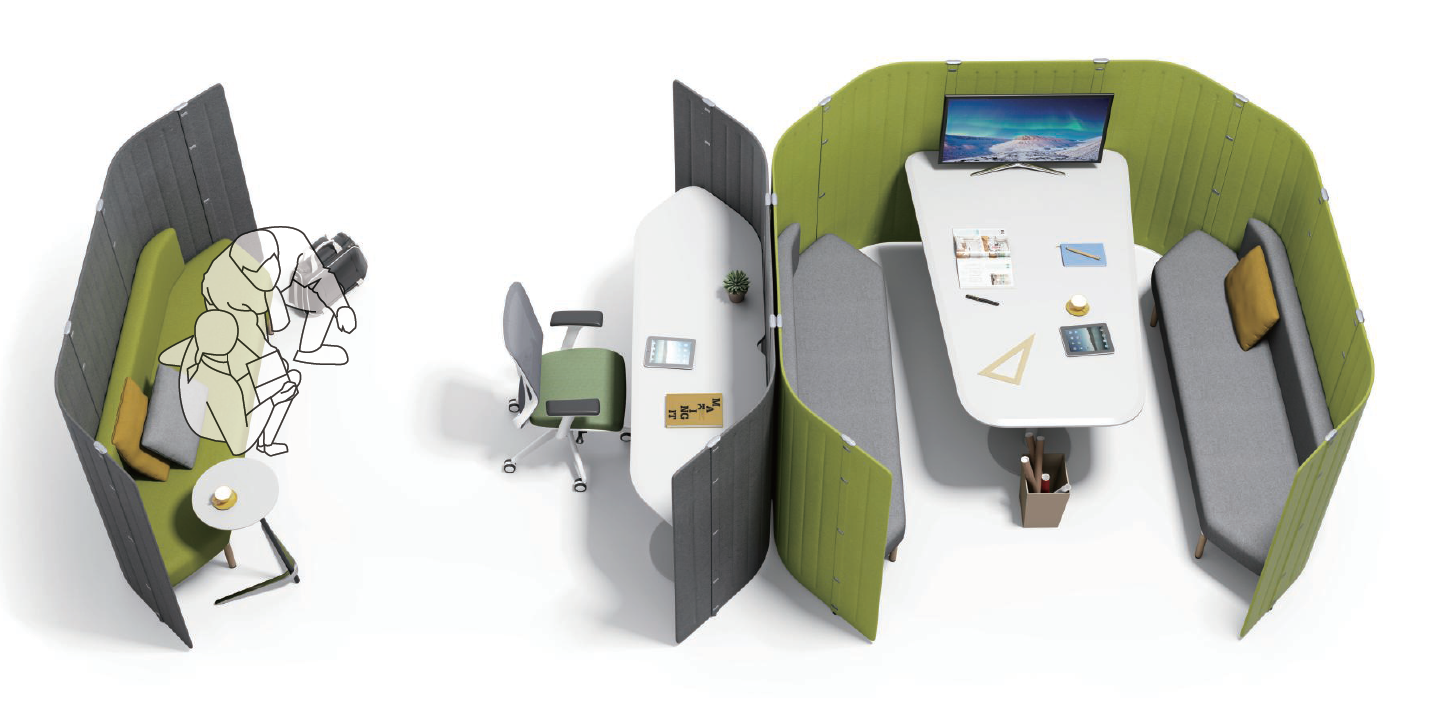 With the right commercial office furniture and thoughtful planning, we can create productive hybrid workspaces. Different forms of agile working and collaborative workspace models may be accommodated with a customized approach, helping to make the post-pandemic workplace healthier, happier, and more adaptive.