Employers are seeking for methods to refocus the workplace in a world where technology enables workers to do so from anywhere, whether at home, a coffee shop, or the office. To make the workplace more enticing for employees, design cues from hotel lobbies, residential lounges, and cafés are incorporated. The café style, however, stands out as this trend's most distinctive layout. Office common areas like cafeterias and lounges promote lively conversation by offering a setting appropriate for social interactions.
Office breakrooms are no longer just a place to get a cup of coffee and some food. Instead, the work cafe serves as a place for cooperation, impromptu meetings, and brainstorming sessions and operates more like a coffee shop than a breakroom. Consider work cafés as a "third space" where communication flourishes, discussions begin, and unplanned interaction takes place. Employees now want to work in an atmosphere that is flexible and open, and café settings are ideal for meeting this requirement. Modern workplace design concepts are the ideal combination of form, entertainment, and usefulness for your cafeteria space.
Here are five ideas for a work cafe to consider when designing an office.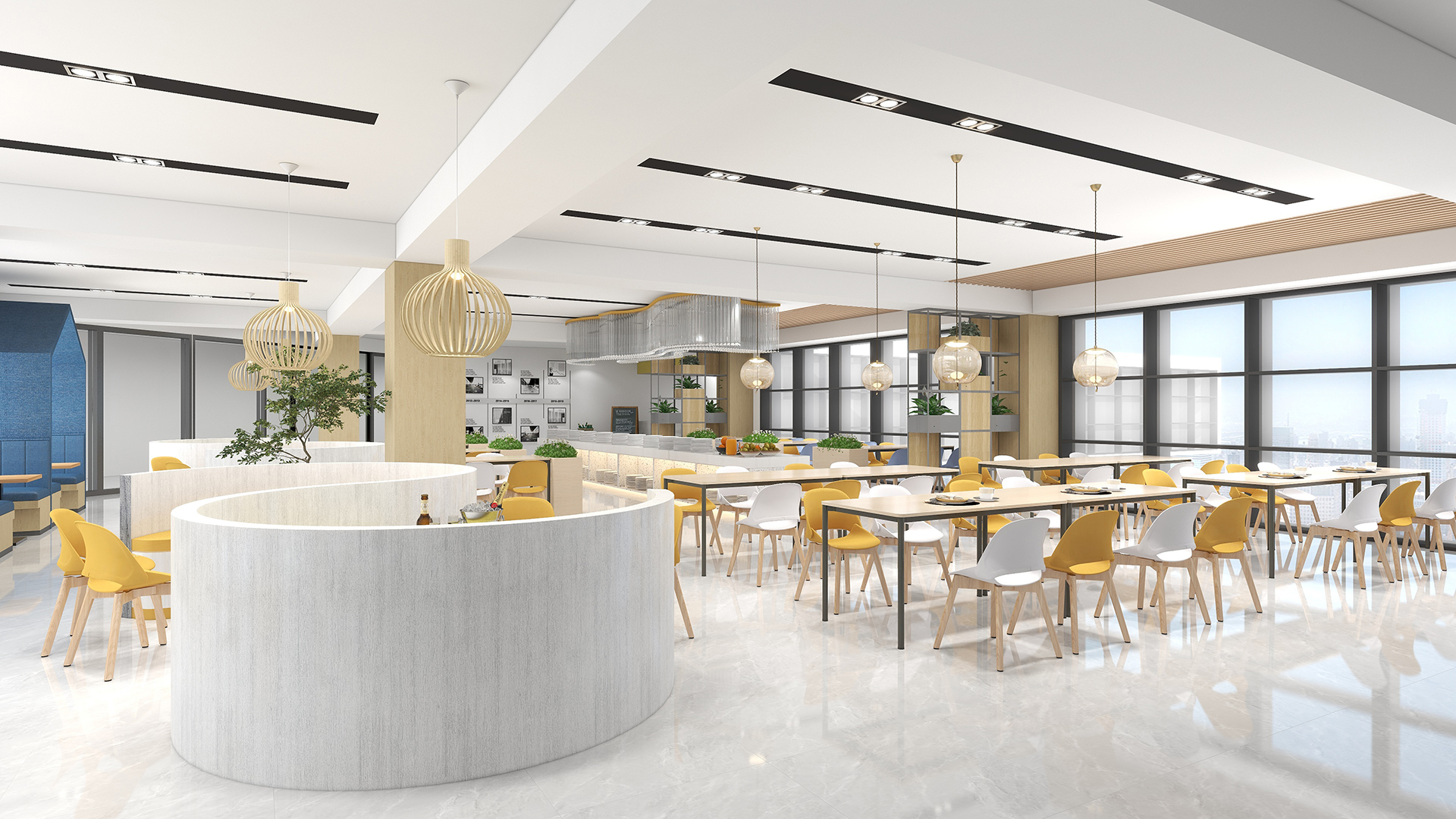 A third space for people to enjoy and work
When planning a cafeteria or pantry, it's important to bear in mind that these areas could also be utilized for bigger team- or organization-wide talks. Its primary function is to act as a "third space" in the office where it hopes to encourage: Team cooperation, impromptu meetings, brainstorming sessions, casual discussion, and one-on-one communication. Therefore, it has the effect of preparing the ground for interactions of this nature that promote belonging and trust. The designs will need to strike a compromise between the necessity for simultaneous sitting and areas that can serve as gathering or meeting areas for small groups, depending on the size of the cafeteria.
The need for high value amenities
Imagine a large, light-filled area with stunning vistas and loads of natural light. The pantry looks really cosy and welcoming thanks to biophilic interior design features including a wood-beamed ceiling, long wooden tables, and hanging plant pots. When potential employees see your facilities, they will be affected by several of the most desirable elements. In addition to assisting you in attracting specific candidates, the quality and design of the interiors, as well as amenities like "cool" office cafeterias and office lounges furnished with "cool" break room furniture, can also help spread the word that your company is a desirable place for potential employees to work.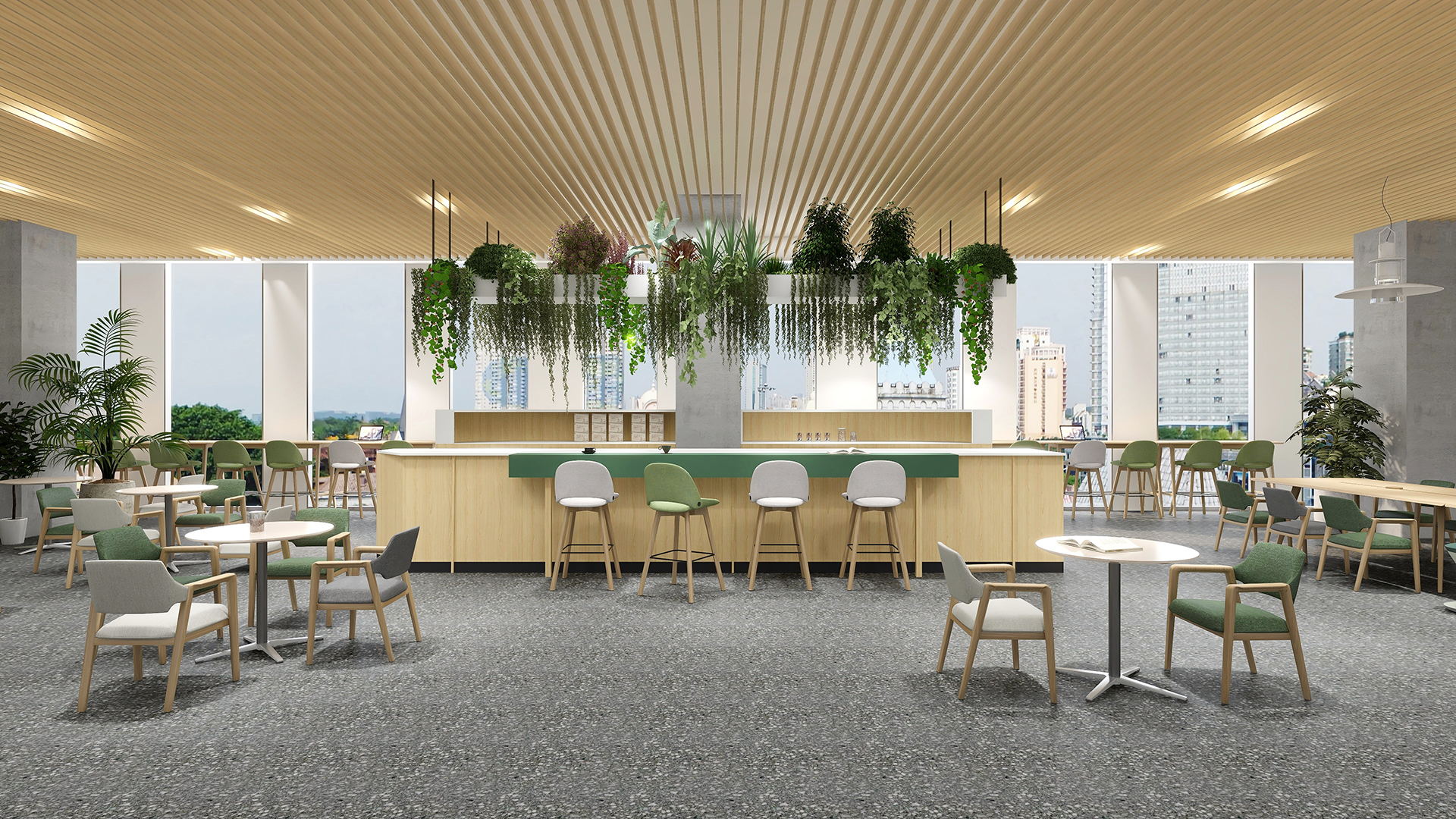 Give the power of choice
Design a space that accommodates the many settings for work that your workers perform by taking into account all of these activities. With this strategy, you allow your staff the freedom to choose where and how they want to work. Work cafés provide employees a chance to change up their atmosphere and take a break from sitting all day. Your staff will love it if you create spaces in the café that has bar stools and cosy sofas. Sometimes the things that encourage relaxation also inspire creative thought in people. Alternative work environments have been shown to increase levels of enjoyment and productivity.
Create a Homely feeling
To create an attractive yet tranquil atmosphere, use natural lighting, art, and color. Opening it open to the outside gives a cafè ambiance and that much-needed dose of vitamin D. Accent lighting, a hint of an exposed brick wall, and multi-hued brown tones with texture may assist to provide that aged, rustic character. Compared to areas that are explicitly designated for work, the atmosphere in these areas may be cosier and considerably more relaxed. Here, you may think of adding some plush seating, cozy lighting, and a ton of greenery. Such a room creates a warm and homely atmosphere overall.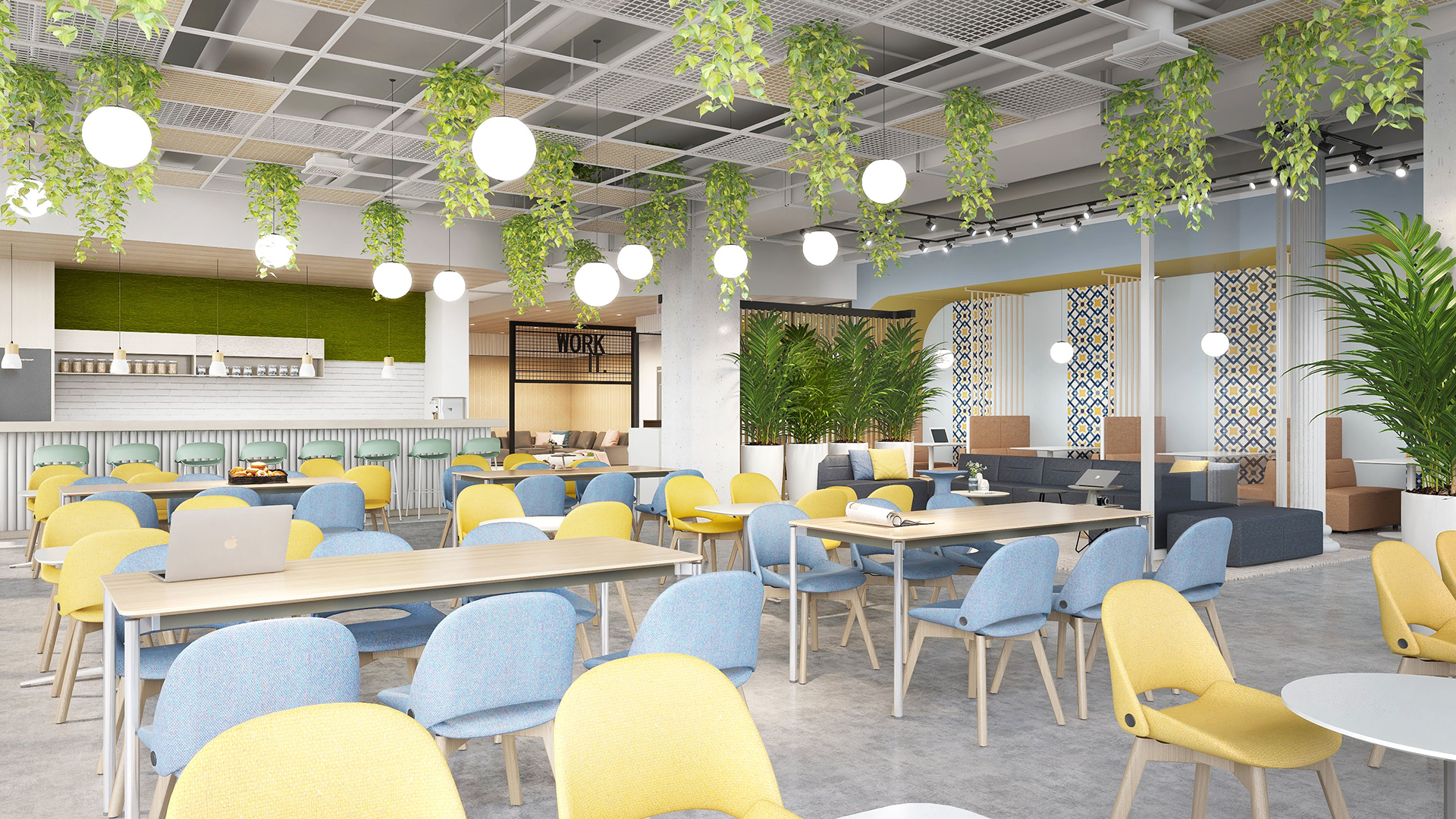 Reinforce brand's identity
The potential to strengthen the brand's culture and identity is provided by the work café. The secret is to incorporate the brand's identity into the café design in a casual yet memorable way. Small nods to local culture may be a wonderful way to give a workspace a distinctive regional identity; this is something that international businesses may find particularly helpful when it comes to forging a local footing. Simply from an emotional standpoint, having a strong, recognizable brand identity encourages a feeling of community and corporate pride in the employees.