Even if you have not returned back to work yet and still are working remotely, the chances are that you will be back to the office in 2021 and the offices need to be prepared for it. Every year new research and trends emerge providing valuable insight into how office design trends can impact employee wellbeing, productivity, talent retention and so much more. But the post-pandemic office trends look a little different than they did in a pre-COVID world.
Social distancing, face masks, and the highest level of cleanliness have become the new normal. Although things are calming down, there are certain trends that are here to stay for the foreseeable future, and companies need to adapt. A question arises, how will offices support remote working and physical distancing without compromising people's productivity and sense of wellbeing? Reflecting on what's happened last year, architects and designers around the world are reimagining how the office will look as we head into the new year.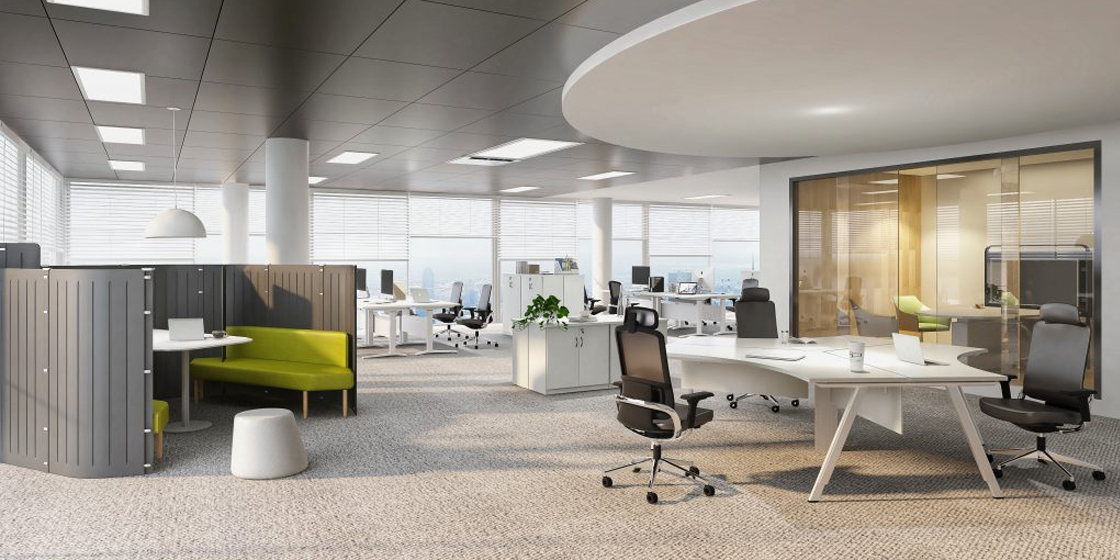 In the first blog of 2021, we are rethinking and reconsidering the biggest office design trends, factoring in the influence of COVID-19.
Sustainability and Circular design
While designs with employee safety in mind remain a top trend of 2021, sustainability and eco-responsibility will continue to be an important factor for organizations. This trend goes beyond the realms of design: the ways people use and behave in their spaces are just as important as the build itself. It's more rotted in organizational culture and business ethics.
Companies that are committed to reducing their carbon footprints, prioritizing employee wellbeing, and ensuring diversity and inclusion are more likely to attract and retain the best talent. Opting for a 'green' office is a way for companies to demonstrate a commitment to environmental causes to employees, customers, and competitors.
Resimercial Design
Offering a home-like atmosphere is not a new trend but Covid-19 is catalyzing this trend. Many people will now be looking for a workplace that feels and looks more like a home-from-home. The combination of residential and commercial design features – 'resimercial' has been gaining momentum for a number of years. Bringing a home-like atmosphere into the office, without being too casual, has its merits. This more laidback approach is mirrored in both the physical space but also within company culture and patterns of behavior.
Read more in detail in our blog on Resimercial Design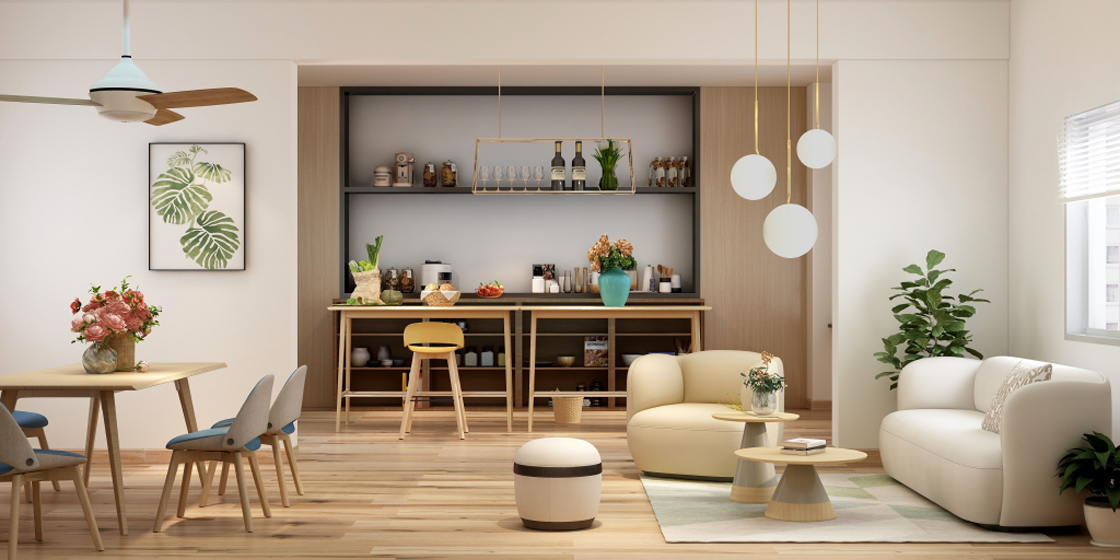 Technology and Smart offices
Remote working has solidified our reliance on technology and the Internet of Things. Smart workspace uses digital sensors to monitor and respond to things like occupancy, air quality, natural light levels, and much more. This is an incredibly powerful tool for office design, and has special relevance in the context of social distancing and COVID-security as well as being a great help in space management.
But, Leveraging technology to make socially distant workstations is only half the battle. The second part is using technology to bring your employees together while they work apart. A more integrated relationship with technology can also help us as we move forward in our return to the workplace. Video conference technology and other tools are going to key in maintaining connection, communication, and collaboration.
To know more, click here – Smart offices
Mobile Furniture
Mobile furniture can refer to different types of office furniture that you can take with you wherever you need to work in the office. These include pieces of furniture such as desks and chairs on wheels, but they can also include other things, such as movable partitions and walls. Not only can this promote physically distant spaces, but it's also a good idea to promote efficiency and productivity.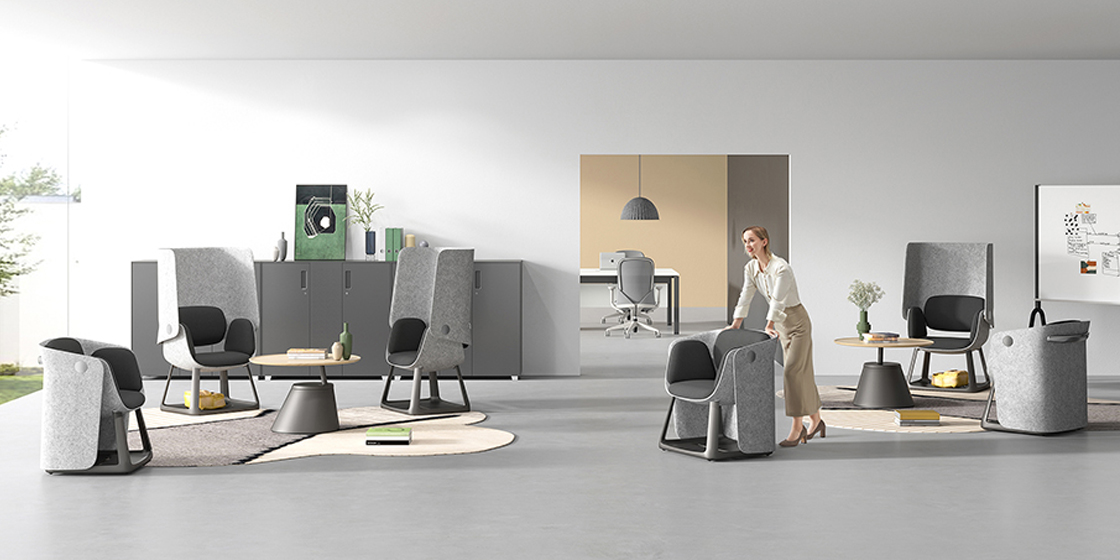 Wellbeing and Human-centered design
The pandemic reminded us of the importance of health and safety at the workplace. Now businesses are also focussing on the mental and physical health of their employees. We will see more wellbeing-focused design elements such as biophilia, cleaner air ventilation, and greater areas of natural light in the office. Designs using wellbeing certifications such as WELL will really reassure your staff, and attract them back to safe workplaces as well as helping them to work happier and, ultimately, better.
Learn more about Biophillia in offices
Agile Workspaces
Agile/ flexible working is an office design trend that has gained huge relevance in 2021. Agile as a study is very much team-focused, so this type of workspace sets up "zones" throughout the office, such as the brainstorming zone, collaborative zone, quiet zone, and meeting zone. The agile workspace can meld easily with an open space concept.
Providing employees with different locations to work in – depending on the type of work they are doing – gives your team more control over their work experiences, increases productivity levels, and boosts engagement. With a part of the workspace working remotely, this will be a much-appreciated perk for the staff.
Read more about Agile Workspaces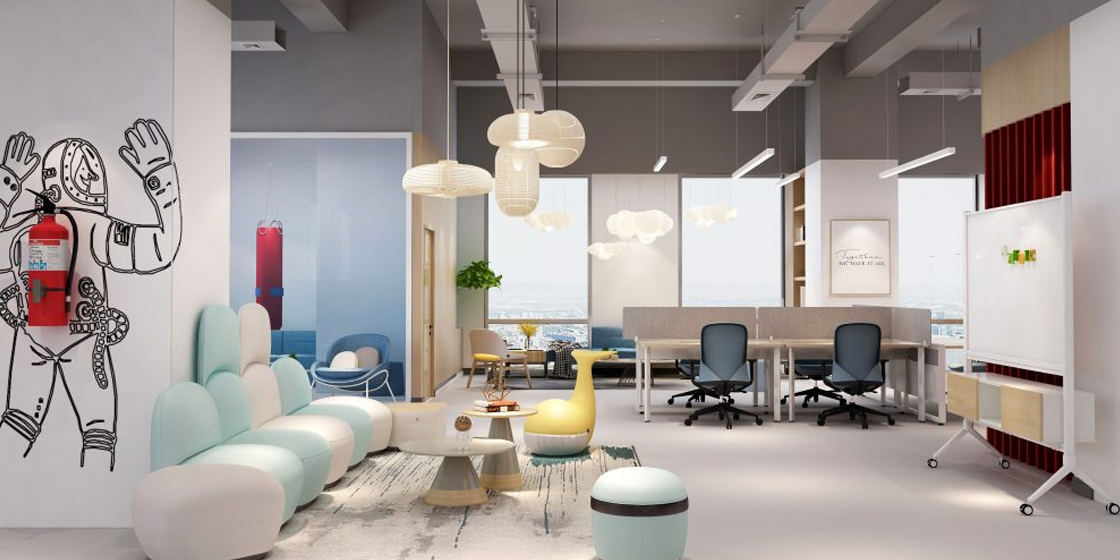 The Takeaway
In June 2020, we published a blog on the Post-Covid 19 Office design trends. Most of those predictions still hold true, but it has taken us a much longer time than expected, to be able to return to the office. 2020 brought the office into our homes and 2021 will bring home into our offices. This is one office design trend that has only accelerated with COVID-19 and will continue to influence the way we consider work and workplace design for years to come.