In today's time, not everyone has the luxury of a big space. Working in a small office means contending with the limitations of its square footage. Changing the fundamental layout of your workplace, making the switch to less cumbersome furniture, and redecorating can make a difference. If you are a business owner with limited space, it is still 100% possible for you and your employees to stay focused and work towards achieving your company goals. Having an effective and efficient workspace has been shown to provide numerous benefits, including boosted productivity and job satisfaction.
For many entrepreneurs, the main area of focus beyond the product is branding like logos and colors, but it's also important to think about the visual impression created by the furniture in your space. You can help define your brand by making office design and furniture choices that fit the message you want to convey. If you have relatively smaller space, the choice of the right office furniture can be a crucial series of decisions for you to make.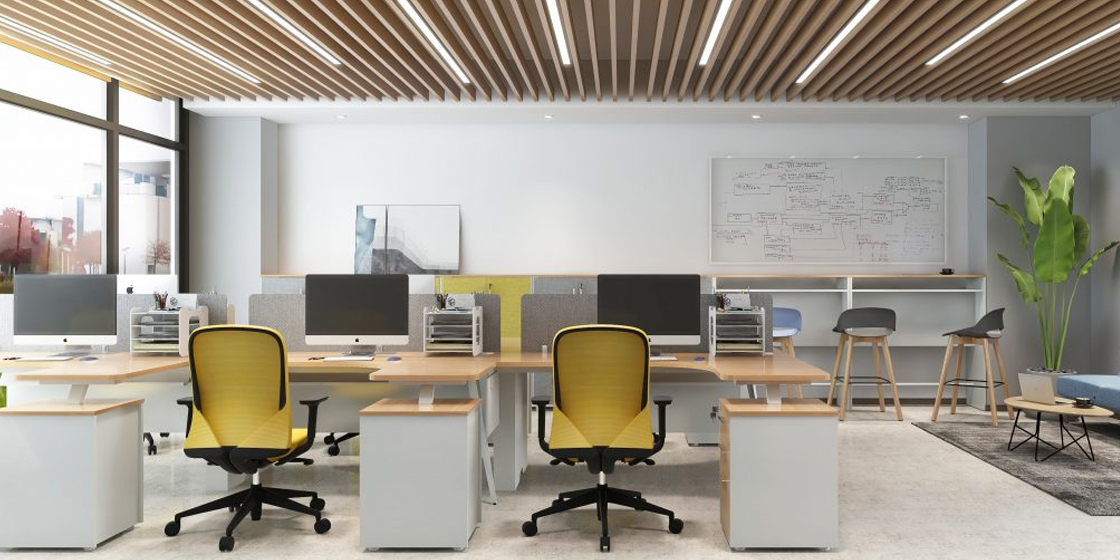 Ideas for creating a smaller office space that works
If your workplace is on the small side, you'll need to maximize the use of the space. Look for ways geared toward employee comfort and productivity. In this article, we have taken a look at how to make the most of any space and set up the ideal small office for you.
1.Agile workspaces/ Hot desking
Hot desks are open, unassigned seats that allow employees to use the desks as needed—when they're available. They're a great way to make use of space without focusing on one specific area of the office. You can create flexible workplaces from unused meeting rooms. Turn a conference room in a group work area and lounge or a media room and a phone booth. Coupled with tech tools, employees can have access to multiple options for work, collaboration, and relaxation.
Learn more about Agile workspaces
2. Compact office desks
Choosing a compact desk is a smart move when you have a small workplace. A more compact set-up will ensure you have ample room and plenty of storage options. These smaller desks normally range from 600mm-800mm wide, so one desk should fit perfectly in any workplace. A range of stylish options are available, many of which have convenient features like slide-out keyboard trays, storage drawers, built-in shelving, and overhead storage.
Another great way to utilize space in your office is to opt for a standing desk which allows you to get rid of your chair for a few hours a day could help your set-up feel less cluttered.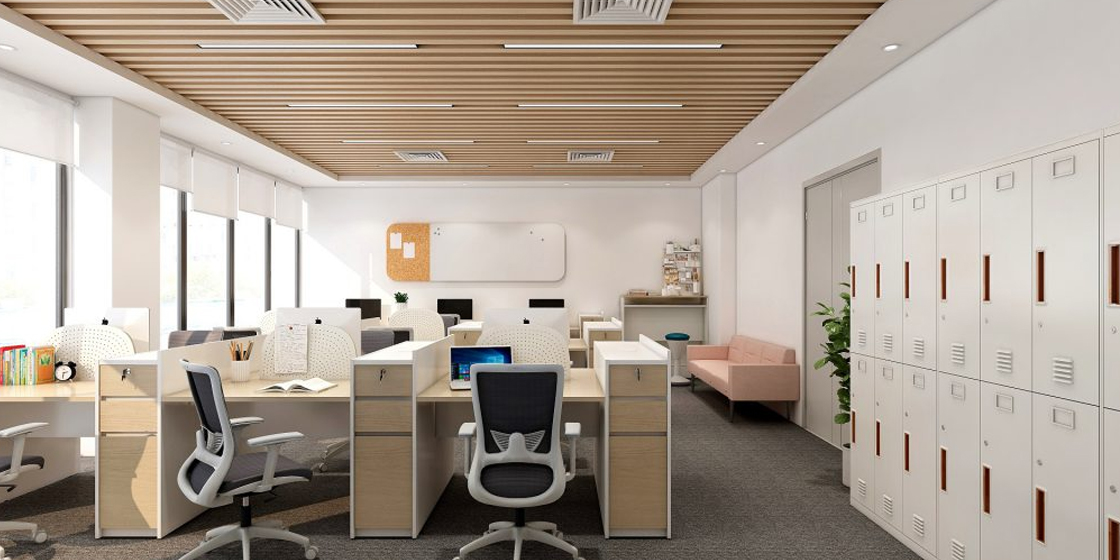 3. Utilize technology
There are two ways to reduce clutter; by having ample storage but it needs physical space and by using technology and storing items digitally. Simply eliminate the need for paper altogether by using cloud storage and file-sharing services. With less paper, you can get smaller cabinets per workstation and save more on space and cost. You can also eliminate unsightly cables and wires in the office by choosing wireless devices and applications.
4. Monitor mobility
Putting your monitor on an adjustable arm allows you to easily move it out of the way when you need more desk space making your work much easier, and helps you make the most of your desk even if it is smaller. Monitor arms are available in many styles and are usually clamped to the edge of your desk. Alternatively, if your desk is up against a wall you could wall-mount your monitor to permanently save desk space!
5. Smart storage options
Don't let all that legroom underneath the desks go to waste. Place small mobile pedestals under the tables so that your employees have a place to organize all their accessories easily. One option for utilizing vertical space is investing in a desk with added shelving and storage above it. Tall open shelving units, bookcases, credenzas, and storage cabinets will take up little of your precious floor space. You can also capitalize on vertical space with tall and narrow lockers to give people more space to move around.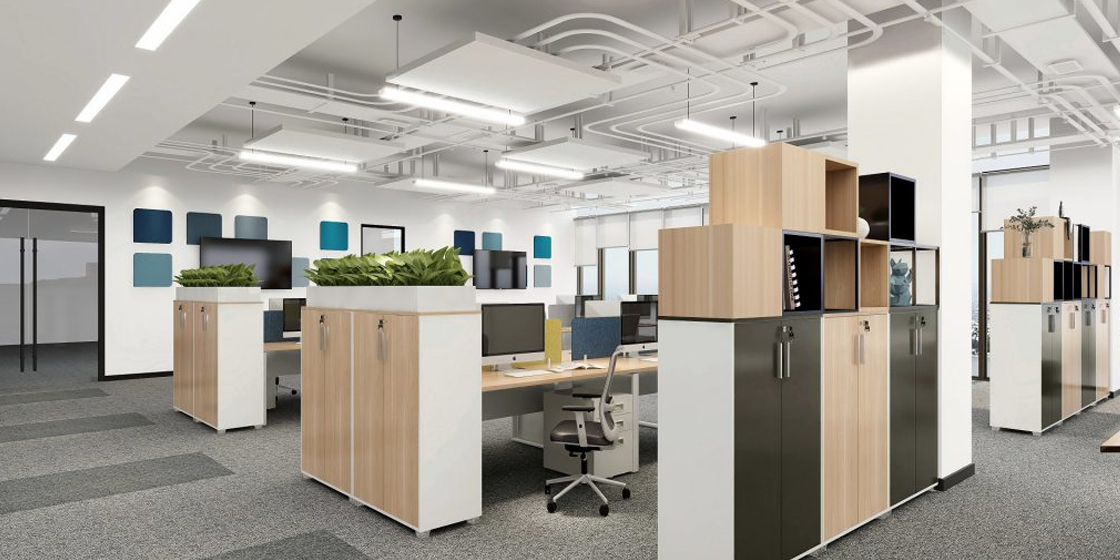 6. Control the clutter
In a smaller office, each little bit of clutter feels bigger and more intrusive. Not only can this impact your productivity whilst working, but it can also affect your job satisfaction, productivity, and mental health too. Every day a quick tidying round to sort your files and clear out all the unnecessary items can make a huge difference to your day and your mental wellbeing. A morning decluttering ritual for all the staff will be helpful.
Learn more about The Power of Decluttering.
7. Make employees feel more relaxed
Employees in small workplaces may feel boxed in, which can impact mental and physical wellbeing. It's important to give staff an outlet and a space to unwind. Give your break room a makeover and create a space where they want to come in to relax and recharge. Cozy lounge furniture can help make a cramped space feel more comfortable. Keep big windows and glass walls in the room, where employees can take in the view and soak in some much-needed natural light.
8. Make Use of the walls
Make the most of your walls by adding cork boards and whiteboards. These boards can be used to display notices, memos, and papers or used as a writing board during discussions. You can also install whiteboards between workstations or on the walls of cubicles using screens. It can also be used as a place to showcase the art and creativity of the staff. This will not only brighten up your office but also boosts employee morale.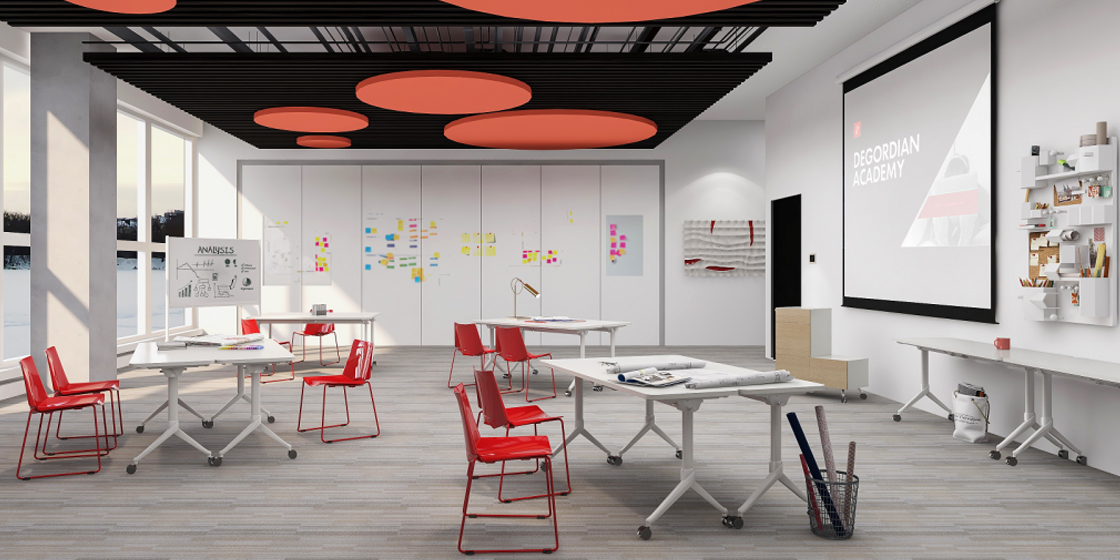 9. Bonus Tip
Don't be constrained by the space. You can also make the office appear larger than it actually is, by:

Installing large mirrors.

Using light colors on the walls.

Making the most of natural light.
Try these creative concepts and make your workplace more accommodating, inviting, and productive. Unlocking your office's potential comes down to realizing the opportunities to make the most of what you have.