The Coronavirus crisis is hitting all of us hard. Today's businesses feel the growing anxiety and concerns about how it will impact all the processes in the near future. The uncertainty of the weeks ahead may make many employees crave a sense of normalcy and camaraderie with their co-workers. With all the focus on remote work, enterprises also need to look at team collaboration and effective communication. Coronavirus has been a catalyst for the massive adoption of remote working.
But Remote communication isn't always easy. Although many workers may find this easier to adopt, other remote workers may face challenges consistently. Gallup's 2017 State of the Global Workplace reports that 85% of employees worldwide are not engaged or are actively disengaged from their work. Luckily, it's not very difficult to increase collaboration across remote team members. It does take intention and effort, though. That's why it's important to develop strategies for how to increase collaboration between remote teams.
Benefits of improved team collaboration
Workers are more productive and the work process is more efficient when teams collaborate. Research says that "Participants who were primed to act collaboratively stuck at their task 64% longer than their solitary peers, whilst also reporting higher engagement levels, lower fatigue levels, and a higher success rate." Companies that promote collaborative working are five times as likely to be high performing. People generally enjoy the experience of collaborating. As a result, they enjoy their time at work more, and that leads to better results.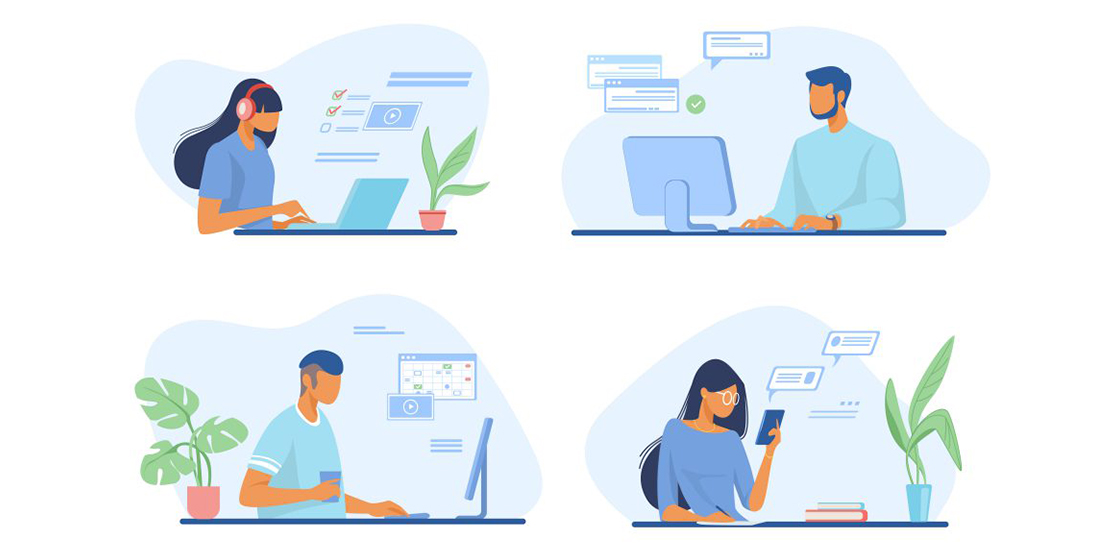 Image Courtesy:Freepik
How to collaborate effectively when the team is remote?
To perform at the highest levels, remote teams have to find new and better ways to operate. When remote teams communicate well and leverage their strengths, they can actually gain an advantage over co-located teams.
In our previous blog, we discussed the best practices for leaders to manage their teams. Check out those tips which will be helpful for other team members as well. Equipping teams with the project management tools and setting up clear goals are the first rules for remote working. In this blog, we will not talk about the usual practices and we will discuss some of the team collaboration techniques that can ensure remote work gets done efficiently and facilitates human connections.
The need for casual conversations
For many team members, it can be extremely difficult having little to no face-to-face interaction. This is why it's so important to jump on Skype and Zoom with your team to discuss work and even non-work related matters. To keep camaraderie alive online, it's helpful to designate a place for casual conversation; in a group-chat application like Slack, it can be as simple as setting up a chat room called #random or #social.
Brevity is not always better
In our efforts to be efficient, we sometimes use fewer words to communicate especially on digital and social platforms. Instead of being effective, it leads to confusion and a waste of time. Don't assume that others understand your cues and shorthand. Spend the time to communicate with the intention of being very clear, no matter the medium. Indeed, you can never be too clear, but it is too easy to be less clear than you should.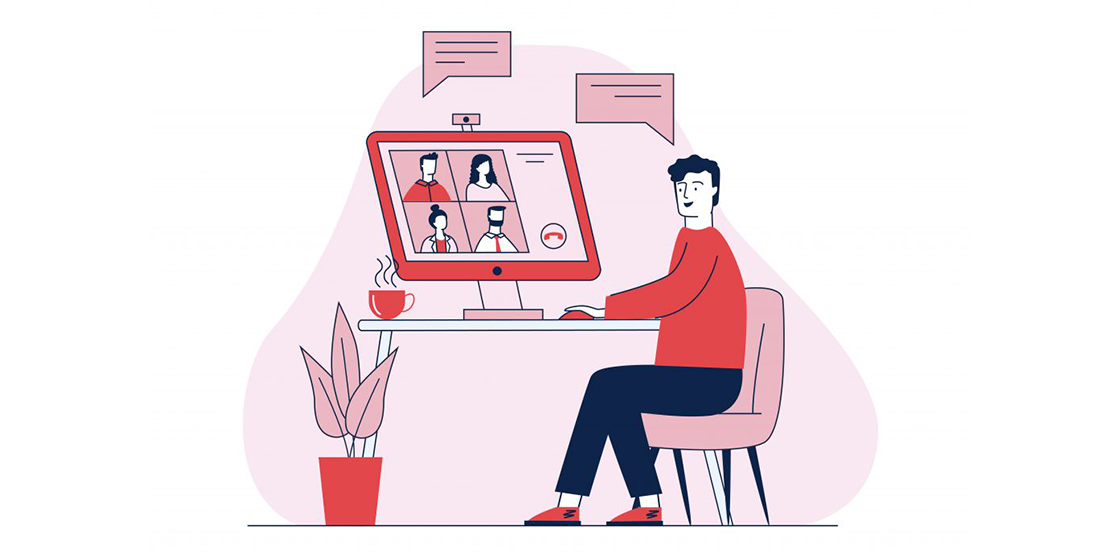 Image Courtesy: Freepik
Mini-Video Conferencing
Connections and collaboration can happen naturally in the office when you are together. But, it's not the case for remote working. So, it's important to keep your teamwork spirit alive by notifying each other about the various tasks you are working on and requesting feedback and extra ideas. Not to mention, it's nice to see a familiar face from work every now and then when you are working at home.
Don't overdo follow-ups and questioning
Using all forms of digital communication for the same message is ineffective (as well as annoying). Do you follow up for a task by email, text, and phone? Do you tend to ask and remind other people multiple times? Your tone of voice in the written text should not be overbearing and controlling. Choose your digital interactions wisely.
Play Team Building Games
Incorporating games into your workday is a really effective way to keep the spirit of your team alive and is a great virtual team building activity. Playing games when you are working from home allows your brain to grow and explore any skills it hasn't before. It enhances your visual memory and significantly improves your brain speed as your brain receives multiple stimulations, helping your teammates to process and react to things faster.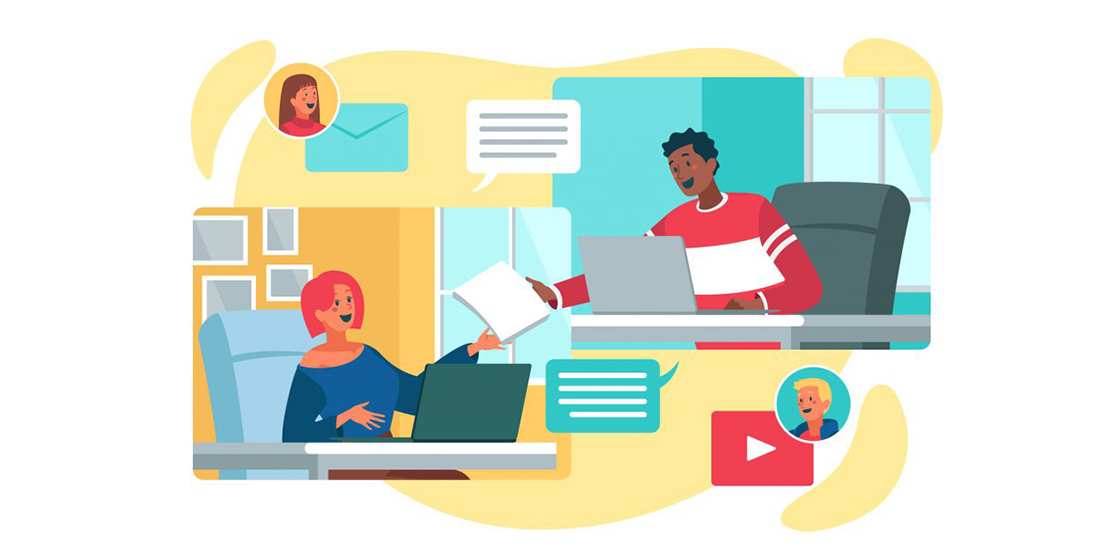 Image Courtesy: Freepik
Have Lunch together
It doesn't need to be an everyday thing, but for office buddies, lunch can be a nice time to reconnect over video chat. If you are staying alone, then having a lunchtime video call is a great way of keeping a positive work-life balance with your work friends, and more importantly, helps you in your mental wellbeing while working from home.
Digital Communication norms
Remote teams need to establish their norms and guidelines for effective communication. For example, Pharmaceutical major Merck created acronyms for their digital communications like "Four Hour Response (4HR)" and "No Need to Respond (NNTR)". Teams can also establish their own norms — e.g., to use or not use Slack, Google Docs, or Whatsapp groups.
Celebrate success virtually
Creating virtual spaces and rituals for celebrations and socializing can strengthen relationships and lay the foundation for future collaboration. If you use Slack or any social collaboration app, the thumbs-up or clap emoji reaction can be an instant morale booster. You can find your own unique way to create team rituals for celebrating a team member.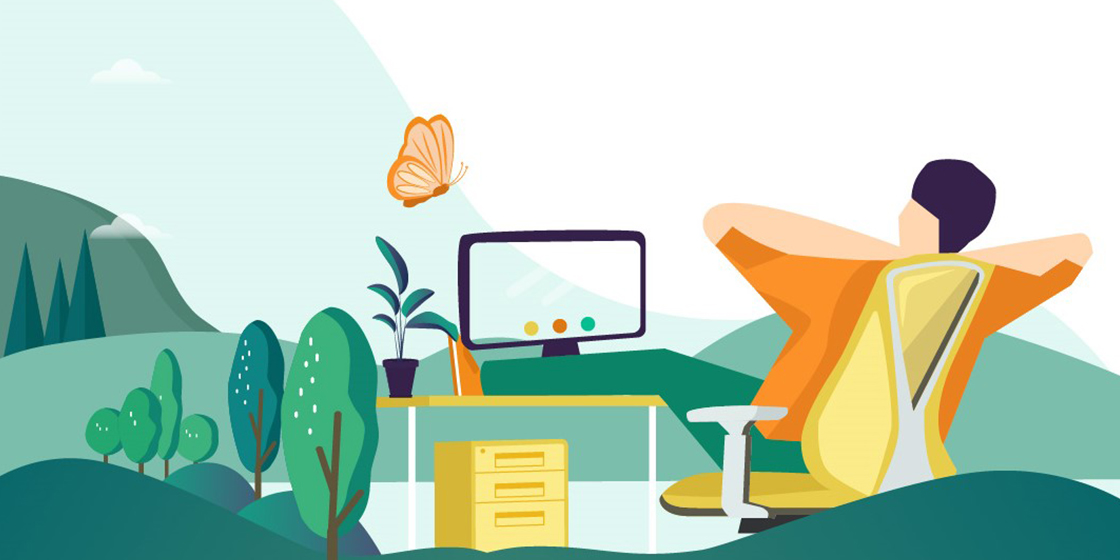 Chair in the illustration: Butterfly
Bottom line
The core of team collaboration is about feeling connected to one another. Any transition to remote work will need to make employees feel like they are working as a team in real-time, no matter their geographic distance. There's no need to expect to work from home to feel better or worse than working from an office; it's just different. Tackle it with an open mind, and you might just find some new practices you can bring back to the office with you once the current crisis has passed.
To learn how to create a productive workspace at home: Click here