Sunon completes 30 years in 2021. It has been an incredible journey for us… from a small workshop to a multinational furniture brand. In the last three decades, we have grown to be one of the largest privately-owned workplace solution providers in the commercial furniture industry, with our core values of integrity and honesty at place.
Our people have been our biggest strength and at this momentous occasion, we want to celebrate the men and women of Sunon, who helped make Sunon@30. We launched an interview series "People of Sunon" featuring leaders, who embody the philosophy of Sunon.
Interview #2: Xia Qiaoling, Director of R&D Centre
For our third part of the series, we invited Debjit Mandal, Manager - Brand (India) and Digital Content (International) to talk about his experiences in branding and marketing at Sunon.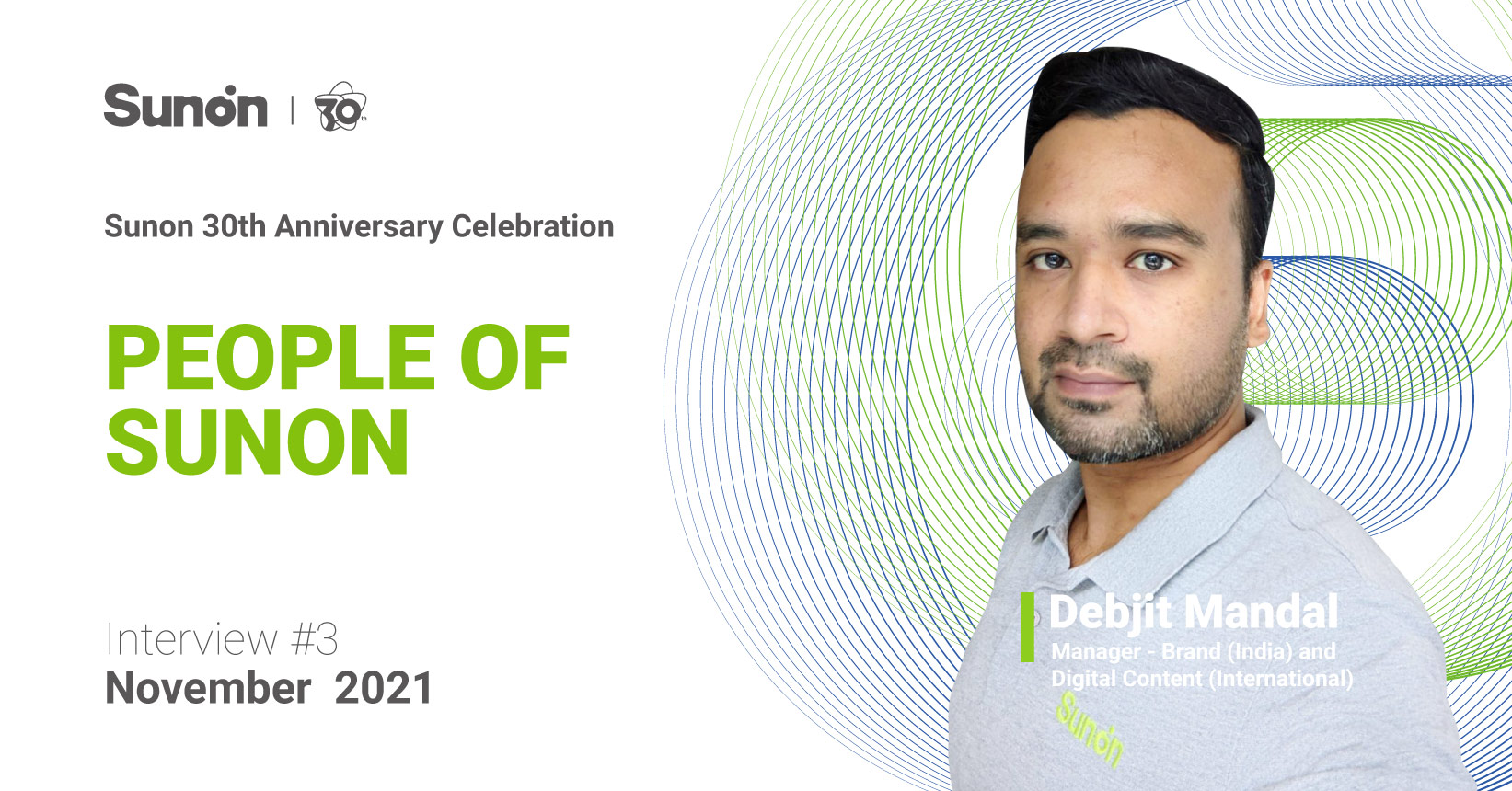 Q1. Tell us more about your journey with Sunon.
I joined Sunon in April 2019, shortly after the inauguration of the Indian flagship showroom in Hyderabad. It was a nascent stage for Sunon India as the team was being formed and I was one of the first members. I was appointed to take care of events and brand promotion for the Indian market. But over time, I took on more responsibilities of Digital content for the HQ team. Currently, I am in charge of branding for Sunon India and I am also supervising digital content and social media for Sunon Global. Over the past two and half years, I got opportunities to work on a global platform and collaborated with Indian dealers, the global sales team, and the branding team in Sunon HQ.
Q2. How has your experience with Sunon influenced you professionally?
I am most thankful for the global exposure and the chance to get connected with a diverse group of talented individuals from China, Europe, and the USA. I got to handle the Advertising accounts of Sunon's Facebook and Linkedin pages, which helped me learn a new skill. I played an active role in all the digital and social campaigns in the last two years and the output has truly been a collaborative effort.
If you a part of a branding team, then graphic design is an integral part of your work. As I worked with designers for various projects, my design sensibility evolved to a more minimal aesthetic and it also made me more aware of the importance of visuals and style. Creating digital branded content that is relevant and useful to our target audience, is very fulfilling. I also had the opportunity to execute promotional plans in both offline and online channels, for brand recognition, lead generation and customer engagement in India. It has been a 360-degree learning experience.
Not every marketing proposal has come to fruition but the in-depth understanding and research required to create those plans will surely come in handy in the future. My time at Sunon has broadened my understanding of branding and helped me grow as a marketer.
Q3. What are the unique characteristics of the Indian market?
After a break due to the pandemic, the Indian office space market is poised to be back on track. There is space for all kinds of players and it is important to position the brand to the right target audience. The Indian market has premium brands and as well as many local Indian brands, which gives diverse options to the clients. Product quality, value-for-money and shorter delivery time have emerged to be the three decision-making factors for winning projects in the current Indian market.
Indian office furniture market evolved late as compared to the West. With the advent of IT companies and start-ups, the whole idea about offices changed, from a working space to a living space. India has the largest young working population in the world and that will greatly impact the future of office design. Hybrid offices for high-performing teams with flexible and collaborative workspaces will be the norm to attract and retain Gen Z talent.
We may be in a core B2B industry, but as far as Indian clients are concerned, purchase decisions are heavily impacted by emotional motives as well. In a commercial project, there are multiple influencers over the course of negotiations and the final purchase, and there are many political and personal preferences at play that can make or break a deal.
Q4. What was the most memorable project for you and what have been the high points during your time in Sunon?
There have been quite a few memorable moments for me like the appreciation from our US team and partners for the digital content and recognition from our MD for my work. Executing the first digital Indian PR campaign and conceptualizing customized events for the decision-makers were also very fulfilling. Also, getting to be the only international marketing team member stationed out of the HQ makes me feel special. Out of all the marketing initiatives in the past two years, I am proudest of the Marketing Research Report, I created for Global Marketing Centre. It included a qualitative study of consumer pain points, attitudes /preferences and Sunon's brand perceptions and challenges.
Q5. What are the challenges of marketing an office furniture brand in India?
B2B marketing/sales is inherently complex, involving multiple influencers, longer purchase period, tight budgets, tailor-made solutions and heavy transactions. On the other hand, customers have higher engagement with more purposeful purchase and less impulsive decisions. Compared to regions like USA or Europe, marketing in office furniture and the commercial interior design industry in India has not yet maximized its full potential. We don't have events like NEOCON or ORGATEC and media like Workdesign or FastCo Design. The Marketing channels targeted to commercial design are very limited in India. Due to COVID-19, the digital space has boomed but that is more out of compulsion and necessity. Moreover, due to the nature of the industry, gauging the effectiveness of campaigns is much more challenging. As a brand manager, nothing gives me more satisfaction than creating engaging experiences for the stakeholders but there are always limitations in terms of budget, economic/social factors, finding the right channels and measuring the return-on-investment.
Q6. Is there something or someone in Sunon that left the biggest impression on you?
The first aspect that impressed me about Sunon is the business strategy of having a global network of product designers with a focus on innovation and human-centric design. I believe, for any office furniture brand, R&D should be of paramount importance which can be a big differentiator in the market. Out of all the people I have interacted with in the organization, our MD of International Business, Ms. Cindy Shi has left the biggest impression on me. Her decades of experience, insightful observations, and understanding of marketing for different regions are inspiring. Also, during a personal tragedy and my COVID-19 recovery period, she had been very compassionate and encouraging, which I am grateful for.
Q7. What message would you give to talents who are looking forward to joining Sunon?
My advice would be "Take the first initiative for projects you believe in and be a self-starter". You need to be a problem solver and always be flexible in your way of working. Getting accustomed to a new work culture can be tricky but having an open mind helps. As in life, not everything at work will go according to your plan, and that is how you adapt and grow to achieve more.