Sunon completes 30 years in 2021. It has been an incredible journey for us… from a small workshop to a multinational furniture brand. In the last three decades, we have grown to be one of the largest privately-owned workplace solution providers in the commercial furniture industry, with our core values of integrity and honesty at place.
Our people have been our biggest strength and at this momentous occasion, we want to celebrate the men and women of Sunon, who helped make Sunon@30. We launched an interview series "People of Sunon" featuring leaders, who embody the philosophy of Sunon.
Interview #1: Lisa Hayes, Director of US sales
For our second part of the series, we invited Xia Qiaoling, Director of Sunon R&D Centre to talk about her experiences in design and at Sunon.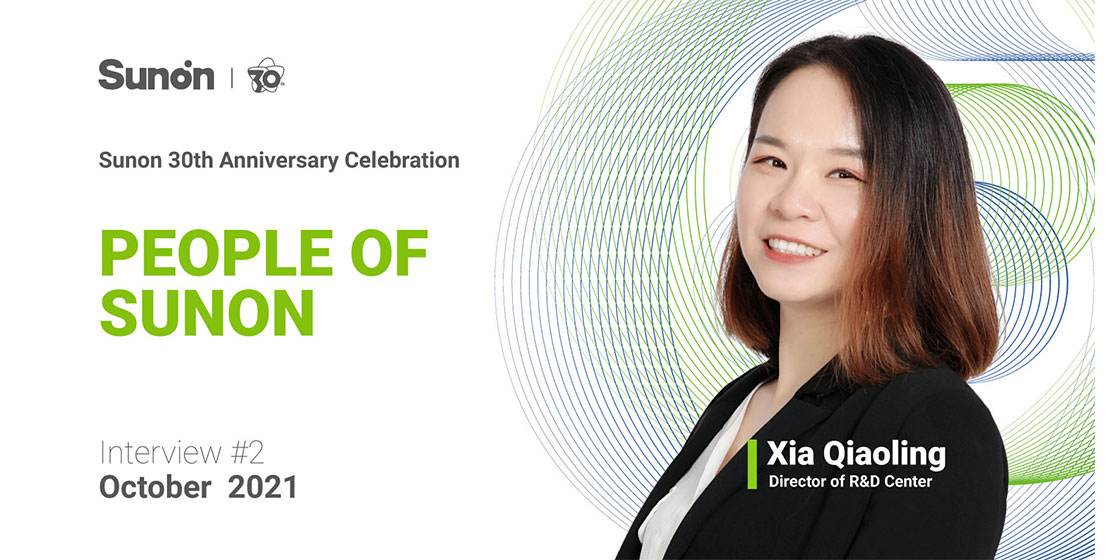 Q1. What inspired you to pursue a career in design?
When I was little, I enjoyed painting a lot. I didn't have many toys so painting was like my best friend. My interest in painting also propelled me to choose it as my main course in high school. And later, product design became my major in university, and eventually, my career. That's how I fell in love with the design.
Q2. Tell us more about your time at Sunon and how it influenced your professional growth
In 2008, I graduated from university and got employed by Sunon through an on-campus job fair. 13 years have passed and I met many inspiring colleagues on the way. However, the person who impacted me the most, is my leader, Mr. Zhang Xujun. I learned a lot about working methods and a positive attitude from him. He and many other excellent colleagues are just like my mentors, in terms of both working and the way of life.
Q3. What are the current objectives of Sunon R&D Centre?
I hope Sunon R&D Centre could lead the whole office furniture industry to innovate and elevate product designs and make our human-centered products win appreciation from countries across the globe.
Q4. Sunon is partnering with many design studios across the globe. Can you tell us more about the design collaborations?
Cooperating with foreign designers offers us a good opportunity to exchange ideas and learn from each other. I really cherish such opportunities to work with design leaders and be in sync with the upcoming global trends in office furniture.
Q5. What was the biggest lesson of your professional work?
From a rookie who required constant guidance to an experienced designer who can guide others, I think the biggest lesson is that you must continuously improve yourself, and keep learning.
Q6. What changes do you expect to see in office furniture and office design in the near future?
The boundary between commercial furniture and home furniture is getting blurred as today's workers prefer offices with a homely aura. Resimercial design is the future.
In terms of furniture design, the human-centred philosophy will be more prominent. In the past, people mostly cared more about ergonomic aspects, but now people will give more importance to users' mentality, experience and sustainability.
Q7. What makes a good leader? Do women have a different leadership style?
I think there are no uniform standards regarding good leaders. I usually observe the leaders around me and learn from their merits. I keep reading many books on management skills but what's important is that as a leader you should analyse every problem from different perspectives and create a plan of action accordingly.
The management style may vary from person to person and is influenced by individual personality and values. A good leader is a good leader, irrespective of the gender.
Q8. Do you think women get the recognition and opportunities they deserve in the design industry?
As I previously mentioned, I think it is your professional competence instead of your gender that really matters. As you can see, there are many renowned female designers worldwide.
Q9. What advice would you like to give to young women wanting to get into the design field?
To make good designs, you should maintain a love for life and learn new things. Think outside the box, and bravely face up to any challenge coming your way. Seeing your design work appreciated and loved by people, is like the greatest compliment and joy you can imagine.