Sunon completes 30 years in 2021. It has been an incredible journey for us… from a small workshop to a multinational furniture brand. In the last three decades, we have grown to be one of the largest privately-owned workplace solution providers in the commercial furniture industry, with our core values of integrity and honesty at place.
Our people have been our biggest strength and at this momentous occasion, we want to celebrate the men and women of Sunon, who helped make Sunon@30. We launched an interview series "People of Sunon" featuring leaders, who embody the philosophy of Sunon.
Interview #3: Debjit Mandal, Manager - Brand (India) and Digital Content (International)
For our fourth part of the series, we invited Majed Rajab, Regional Sales Manager in Middle East to talk about his experiences in the office furniture industry and his time at Sunon.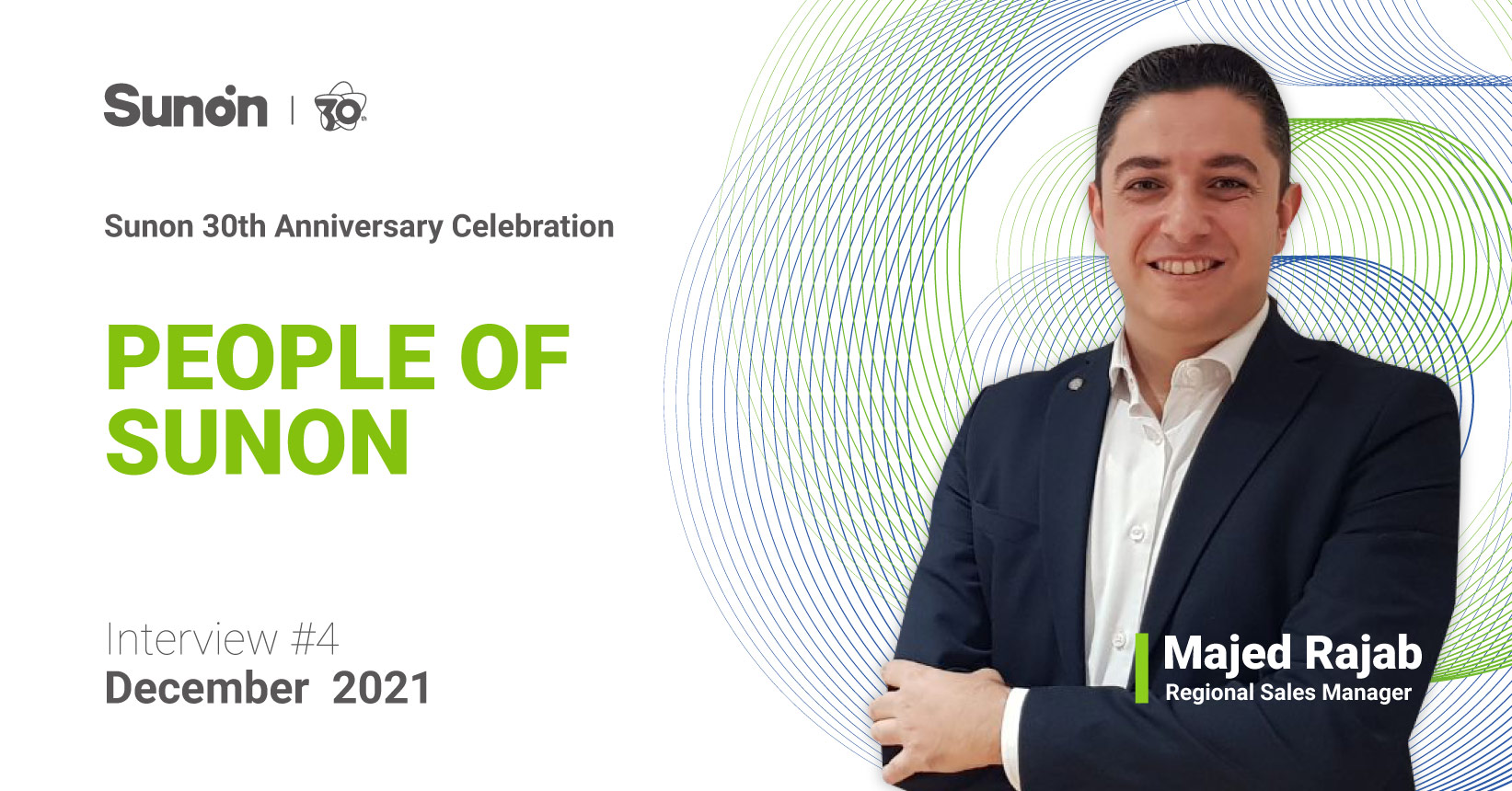 Q1. Thanks for your diligent endeavors for the opening of our showrooms with our local dealers/distributors. Is there any highlight or memorable moment for you?
First of all, I would like to thank our dealers in the region and our branding team for their extraordinary efforts in making our physical presence in the Middle East bright and stylish. Maybe one of the most memorable moments for me was during the opening ceremony of our Kuwait showroom with our dealer Safat Home, when I saw the first video showing our guests and how excited they were to learn more about Sunon and the solutions we offer. I was so happy and at that moment, I realized that this mission is finally accomplished, and now it's time for the next one, which is by the way, coming soon!
Q2. What are the critical pillars for expanding our network in the Middle East?
The Middle East is one of the most dynamic regions in the world, and to expand our network there, we must start from understanding the culture, the history, and the ever-developing investment policies and respond effectively. The key pillar in developing and expanding our network here is by providing the required assurance and confidence to the market and to our local partners. Having a direct presence, teaming up with the right partners, and being always available to support them, are the key essentials for that.
Q3. How has your time with Sunon been so far and what are the most appealing aspects that you're most excited about at work?
My time with Sunon was really exciting, as Sunon is a place where every door is open for innovative ideas, suggestions, and product feedback or simply to keep learning. Such a positive environment would certainly unleash the "creative you" and would always encourage you to seek a better outcome. I think that one of the most exciting aspects of working with Sunon is the fact that there is always a plan in action for every team member to develop their skills and abilities, therefore their career path.
Q4. What is the most challenging moment you've ever encountered during your time in Sunon?
Since I joined Sunon, I faced a few challenges mainly related to the Covid-19 travel restrictions, which made it impossible to meet my colleagues in person and get proper training in our HQ. The same way, it was really challenging for me to run online trainings with our dealers in other countries. I just hope that soon we as humans will win this battle and we will re-gain our regular lives back.
Q5. What are the key characteristics you reckon as a regional sales manager?
I believe that the role of a Regional Sales Manager is very critical to secure a sustainable and rewarding relationship between his company and the network in his region. To succeed in that, you need to be technically solid and with high communication and presentation skills, which is a must, to be able to support your network effectively. Also, you should carry an in-depth understanding of your market and its potential opportunities and threats, and reflect that to your management along with your recommendations on how to tackle those opportunities and challenges. In short, it's fun yet a very demanding role.
Q6. How you do understand leadership?
Leadership is a talent and certainly not something you learn at school. A true leader is the one who's always there in the field, mentoring, motivating and supporting his team, taking charge at times of challenge and share the credit at times of success. I truly believe that teams with real leaders would often show more efficiency and higher rates of success while facing any challenge.
Q7. This year, Sunon is celebrating its 30th anniversary with great success. What do you think are the key success elements of Sunon?
Since its establishment, the vision of Sunon was crystal clear in building a reliable and trustworthy global brand that adds real value to the industry. For that, we teamed up with the most reputable design studios in the world, to develop our range of unique solutions. Additionally, we built modern, green, and sustainable solar-powered factories that support a very low ecological footprint. And of course, we were always there to take part and to be responsible towards communities in need worldwide.
I believe that any company with similar culture would always succeed, and here at Sunon we are now looking for the next 30 years of success.