The future office is minimal, liveable, and loveable.

The workforce of today wants to feel comfortable, inspired, and supported at the workplace. Gone are the days when desks were meant for computers and chairs for sitting. Our workspaces have evolved with the changing needs of the users and the new ways we work. People want to connect with their teams in informal ways that will help them build relationships while being in spaces that support them to do their best at work. Those spaces must also foster the well-being or happiness of the users.
Keeping the changing needs and desires of customers in mind, Sunon introduces the Summer Collection 2020; a collection with 3 product lines that offer endless possibilities to re-energize the workplace. This collection of new products and materials comes from months of research and partnerships with leading designers. Primarily focussing on flexibility, collaboration, and acoustics, our human-centric designs help to create hard-working and high-performing workspaces.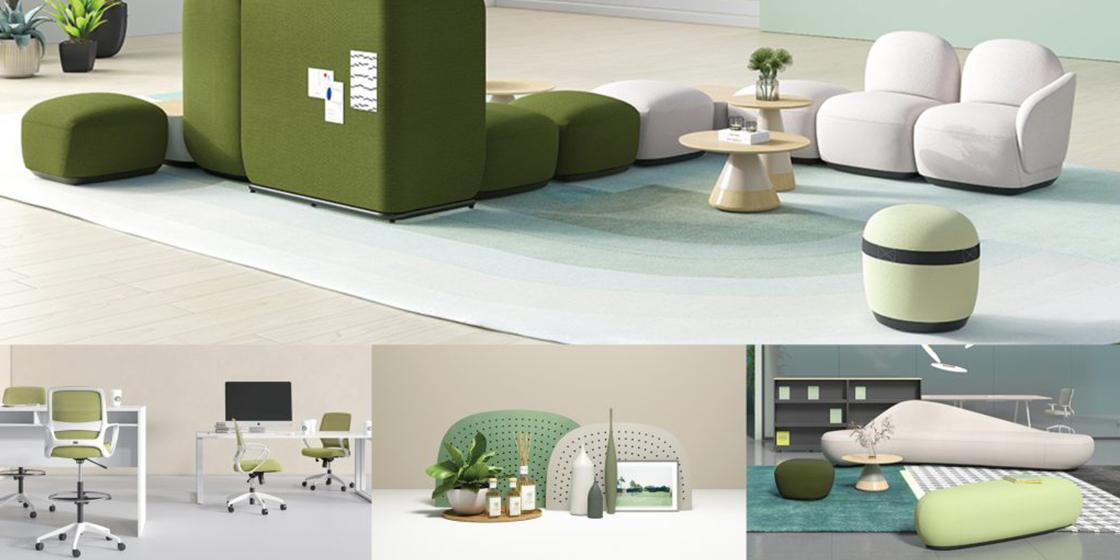 An informal, collaborative and harmonious office ecosystem
D-series is a revolutionary modular lounge series that creates an innovative and diverse office environment. It inspires a new working: faster, more informal but at the same time with the privacy that sometimes everyone needs. The sofas and the modular seating creates a warm and welcoming office atmosphere. The soft and round shapes and high-quality materials increase the comfort of the seating. The screens, frames, and panels convey privacy but never forget the style.
Highlights
Highly customizable for workspace planning

Flexible and coordinated workspace layout

Built-in supports for electronic devices

Opportunities for easy communication

Contributions to employee wellbeing

Amenities for impromptu negotiation areas
Designed by award-winning Italian design studio Favaretto and Partners, D-series is a culmination of years of research and design thinking. With a diverse range of individual pieces, it can be adapted to any situation because the modular sofa allows creating different settings for any needs: informal or fast meeting, work meeting, or coffee break. D-series has been divided into three sub-series, for their distinctive design styles and purpose: D1, D2, and D3.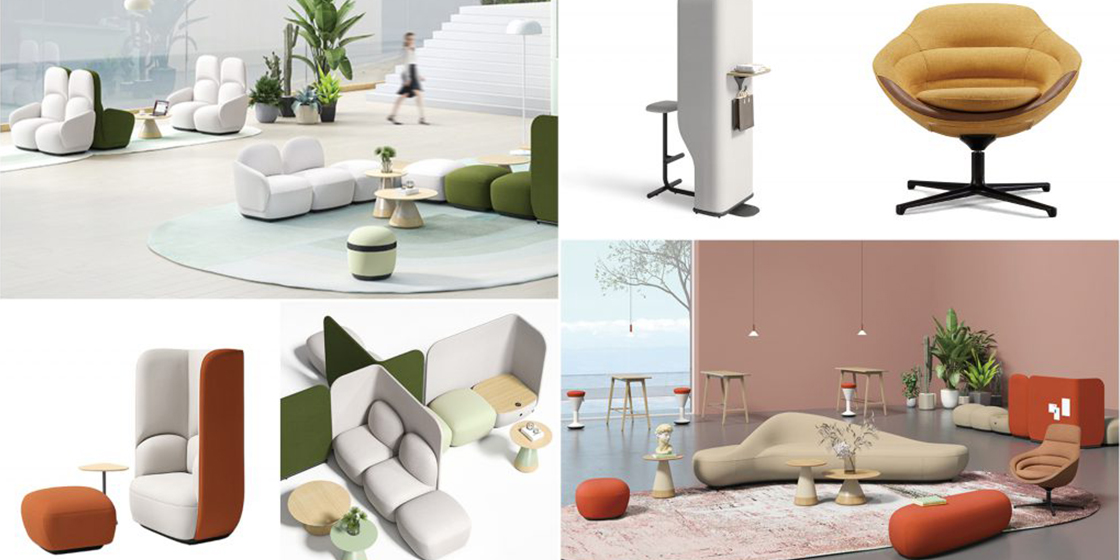 Clockwise(from top left): D1 sofa, D1 phone booth, D3 lounge seat, D2 sofa, D1 sofa, D1 sofa
D1: Free, Warm and Human
D1 includes six branches including sofa, phone booth, screen, whiteboard, office desk, and bench, in total 47 units. They can be freely combined to form open, private, distributed, and clustered spaces to meet various requirements for working, negotiation, learning, and socializing, helping the transformation of office environment from conventional to modern and diverse.
D1 is a highly customizable and flexible series, which can be adapted for various spaces to suit the individual and collective needs of teams and people e.g.
Shared space for cross-functional team collaboration

Training and learning space with a home-like feel

Brainstorming and discussion areas for creative thinking

Negotiation and private meeting space

Phonebooth space equipped with acoustics

Café space with leisure and social interactions

Reception and waiting areas
Product features:
D1 sofa has 9 configurations for varied needs

D1 sofa is made of elastic fabric and is available in 7 colors

D1 ottoman comes in 2 configurations and 7 seven colors

Tea table with wireless charging and USB port.

Phonebooth in 2 colors and 2 sizes with storage and hangers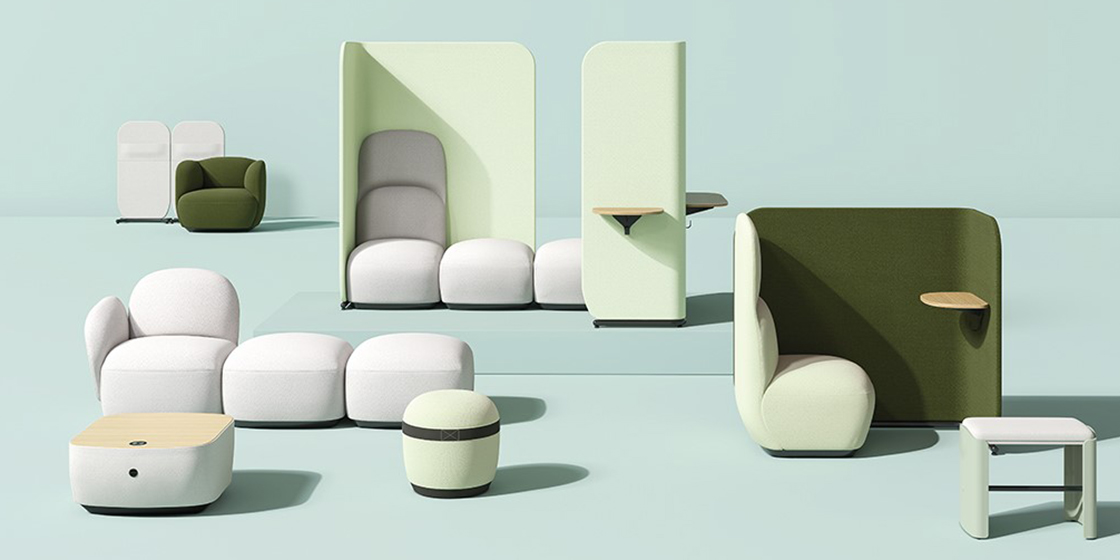 D2: Artistic and Futuristic
The designer shape of the D2 sofa is set into the natural profile of sea islands, bringing aesthetic, modern, and well-proportioned charms to spaces. It's a perfect match for grand receptions and hotel lobbies. Communication and meeting in such spaces is a treat to your body and mind. Smoother, softer, and resilient; these are the first impressions of the D2 sofa. Stitch lines are restricted to the minimum length, for less is more.
Product features:
Seats on both sides with two ottomans

Only four stitch lines for the smooth and winding shape

Steel frame, wooden seats with padded with a soft sponge

Seven welcoming colors

Skin-friendly highly elastic fabric with soiling and water resistance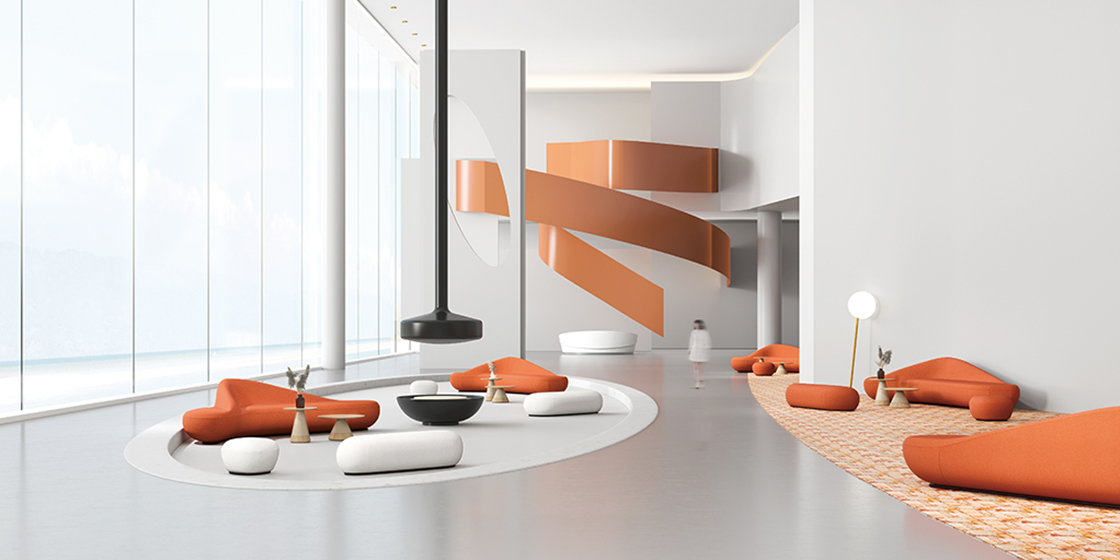 D3: Luxury, inspired by nature
While traveling, the designer saw a mother kangaroo carrying her baby in her pouch. Baby kangaroo in the mother's pouch enjoys the warmth and comfort like no other. This sweet picture brings the design inspiration of stylist sofa D3. Sitting on the sofa, the whole body is embraced by the backrest, bringing an instant release of pressure and a sense of optimum comfort.
Product features:
4 configurations with different material and sizes

Stereo stitches fit perfectly to the back giving lumbar support

Two material options: (A). KVADRAT pure wool fabric, imported from Denmark. (B) SF water-foiling-oil proof material

4 colors in option (A) and 9 colors in option (B)

Three-finger wide pinhole genuine leather edge for durability

Aviation grade metal base with 360-degree swivel function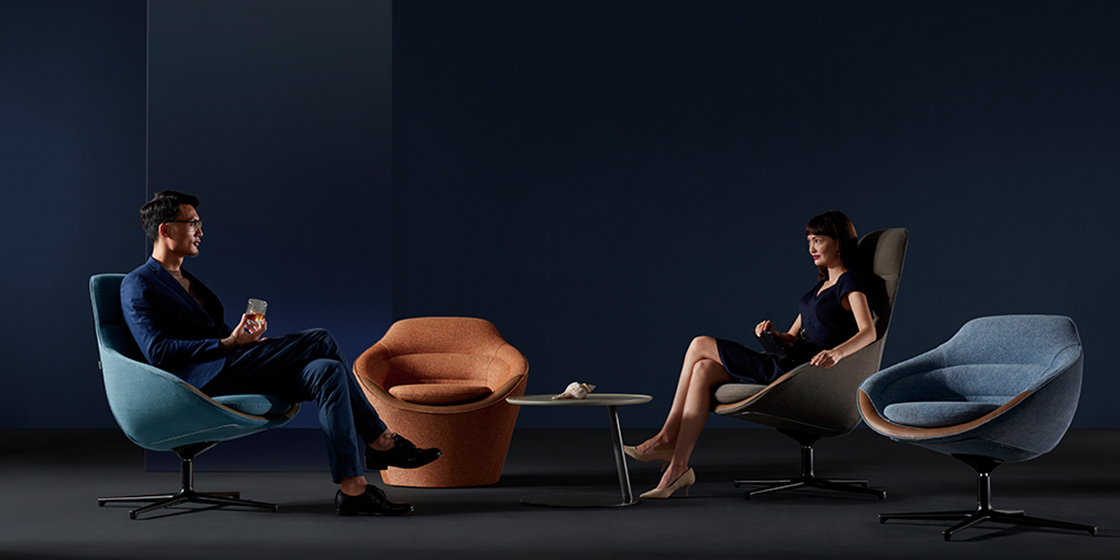 A joyous, modern and diverse office system
Natural Joy Series provides various kinds of work needs in an enterprise. Furniture limited to only one combination can no longer meet the needs. Natural Joy constructs a coordinated working ecosystem, in which every sub-system is a specific solution to a particular need. It embraces four collaboration modes and multiple human-oriented practical designs. It maximizes functions in a cost-effective manner; and helps to constitute a comprehensive and space-efficient working eco-system.
4 work-modes for diverse teams
1. Collaboration mode – Executive desk with workstations
Supervisors can work with employees with no limits on communication and provide an instant response to difficulties /processes of work, which stresses equality and team collaboration.
2. Communication mode – High desk with workstations
Switch to standing desks for short discussions. The sit-to-stand mode not only relieves fatigue but also refreshes people with new ideas.
3. Brainstorming mode – Discussion table with workstations
When there is a need for face-to-face communications, the exchange of ideas can occur at the end of the desk instead of the meeting room; Each mini-group has an exclusive discussion area within reach.
4. Leisure mode – Sofa with workstations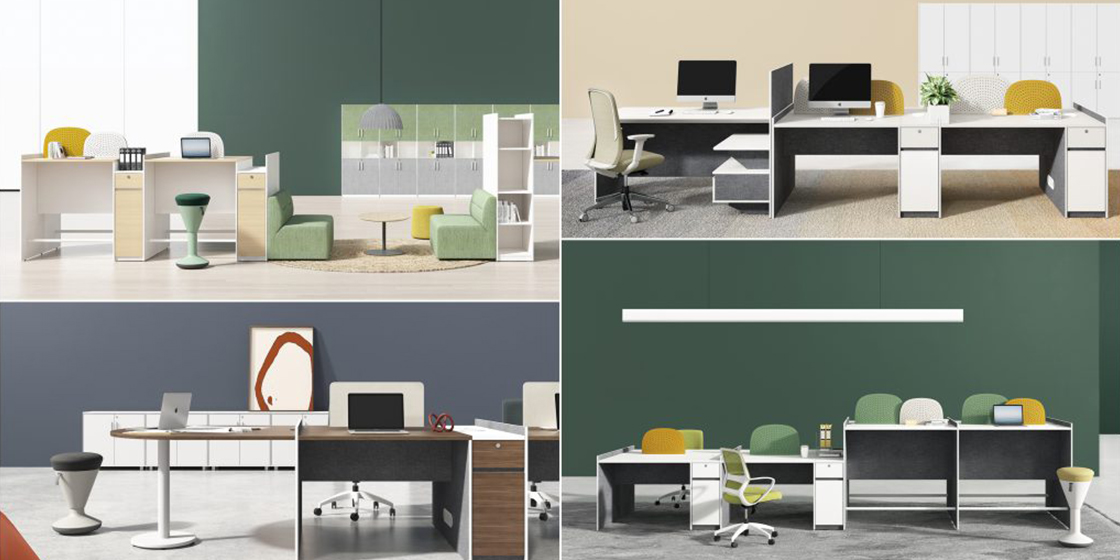 4 configurations of Natural Joy
Product features:
Press and pop-up socket for charging

Inside cabinet power socket and cable management

Aesthetic and removable magnetic screens

4 colors and 2 sizes available

4 types of storage

6 options for desktop accessories

Mountable box on desk for potted plants

Modular design for expansion needs.

Space optimization and maximizing utilities
A compact chair for the modern era of work
Dolphin Office Chair gets its name from the shape. Its outline is simplified and refined into an integrative and dynamic curve. It represents an upward and optimistic attitude. With its minimal design, Dolphin redefines what an affordable work chair can be and provides a perfect match for companies that value performance, elegance, and cost-efficiency.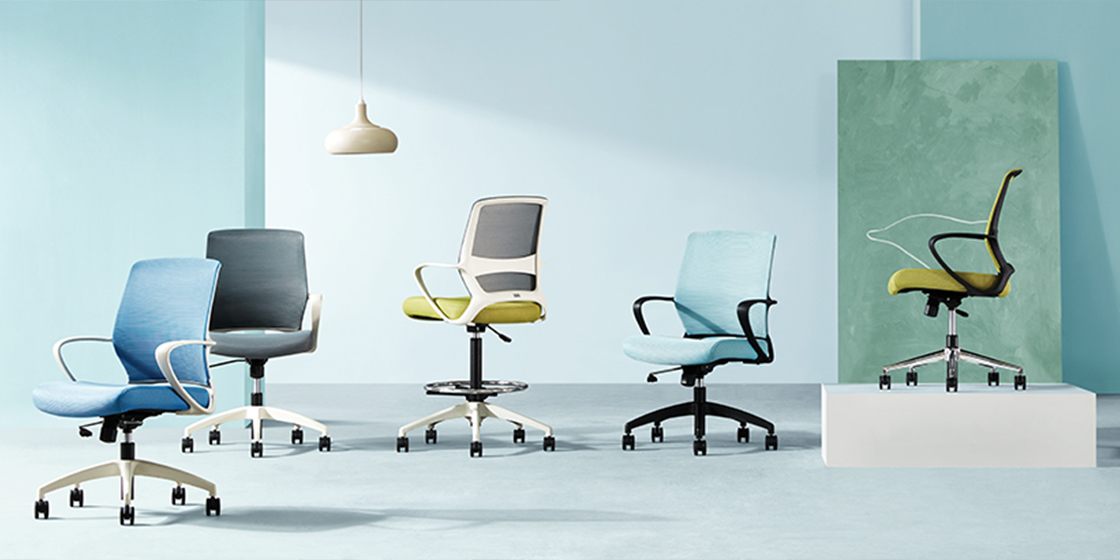 Dolphin with 3 options for legs
Product features:
Compact design occupies less space

Ergonomically designed back and armrest with smooth lines

Silent castors apt for every floor

Stylish diamond-patterned waist support

3 configurations: 5-star base, High leg with metal ring, scaffolding leg

Easy assembly and disassembly in 5 minutes

Comfortable and air-permeable elastic mesh

High-density elastic sponge seat
The Takeaway
Sunon designs and manufactures products that help create inspiring spaces where people can perform their best. With the new 2020 Summer Collection, businesses can have endless possibilities to create high-performing inspiring spaces for their employees. Discover more about the new range: Sunon 2020 Summer Collection.