The future of work is here and it is hybrid. While some companies have made the shift to fully remote, for many others that is not a viable option. So, many are implementing a hybrid model which is going to be the new workplace strategy post the pandemic.
Research has shown that in-person interactions lead to commitment, support, and cooperation among team members. Most employees admit they miss face-to-face meetings and social interactions as opposed to talking to the computer screen. That is why the hybrid model is becoming increasingly popular these days, which involves a combination of office and remote work - performed from home or another place of your choice.
The three facets of Hybrid work –
· The office as a place for meetings and employee interaction
· Partial work from home, as standard, not as a benefit.
· Place of work dependant on the type of activity performed at a given moment
The Hybrid workplace model facilitates the exchange of knowledge and supports the diverse needs of the staff, which is the cornerstone for any successful workplace.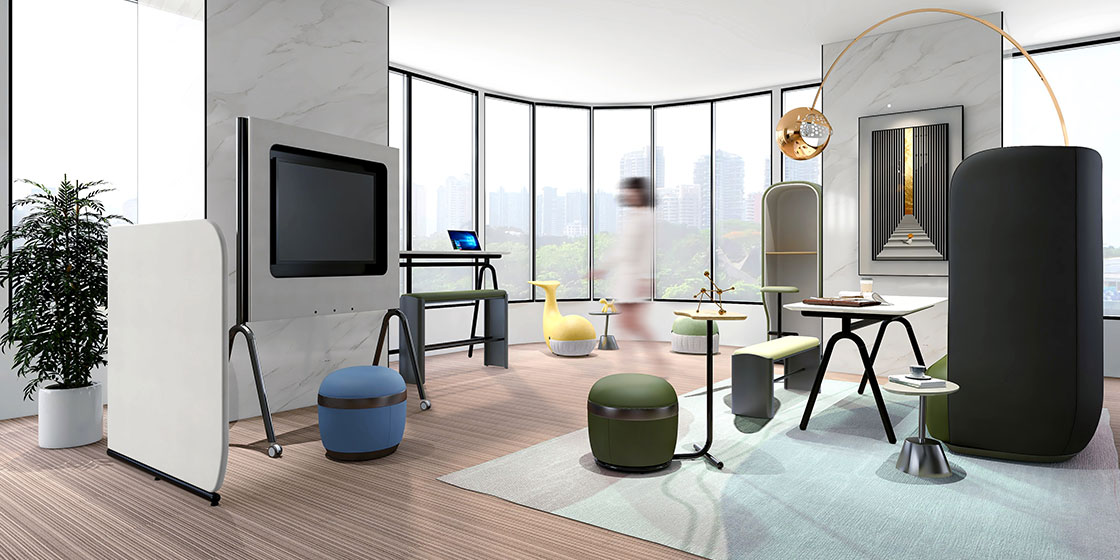 Key Design considerations while creating a hybrid workplace
The hybrid office is touted to be a more efficient way of working, boosting employee satisfaction, promoting a better work-life balance, and enabling connectivity. Here are few key things to consider when designing a hybrid office:
Engage employees in the change
Engages employees in the space planning process as they will need to work and thrive in the new hybrid workplace. This activity requires a team of designers, facility planners, and change management professionals. The change management professional may engage the workforce with a combination of surveys, focus groups, interviews, small group meetings, and/or space planning workshops. It will help discover key elements that need to be considered during the design of your hybrid office.
An Open office layout but not really
After surviving so many lockdowns and being stuck at home for such a long time, nobody wants to go to an office and sit in a closed space or cubicle. People still prefer an office that is mostly open. But the open environments should also have on-demand privacy — like phone booths or focus rooms. These are most desired by employees and show highest effectiveness and satisfaction ratings.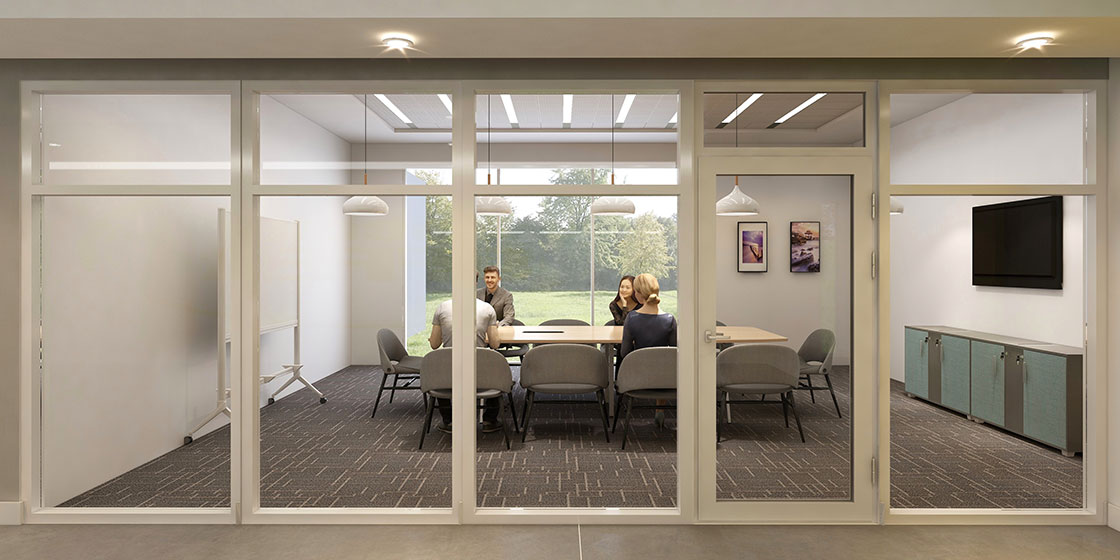 Job roles and work needs
Remote work doesn't work for everyone. There are people who prefer more in-person work as many workers prefer the productivity of the office. Leaders may want to consider mandatory office work for certain teams that need a collaborative environment to thrive, such as sales or marketing. Evaluating each individual's work and collective needs can help create an effective hybrid office.
Technology is critical
A hybrid office is synonymous with technology. Most social spaces in the office; closed or semi-open, will need to be enabled for a video conference to connect the distributed teams, taking into account factors such as acoustics, degree of enclosure, background, technology, and more. In a hybrid office, space and technology are intertwined. Depending on the organization, new technologies and digital tools may be needed as a way to enhance business processes and employee interactions.
More Collaborative spaces
Designating fewer workstations for individuals frees up a lot of space that can be repurposed for a wider variety of collaborative spaces. Multiple Shared collaborative spaces should be created to serve functions like supporting individual work or gatherings or team discussions. The hybrid office should have more collaborative furniture solutions and fewer traditional desks and chairs.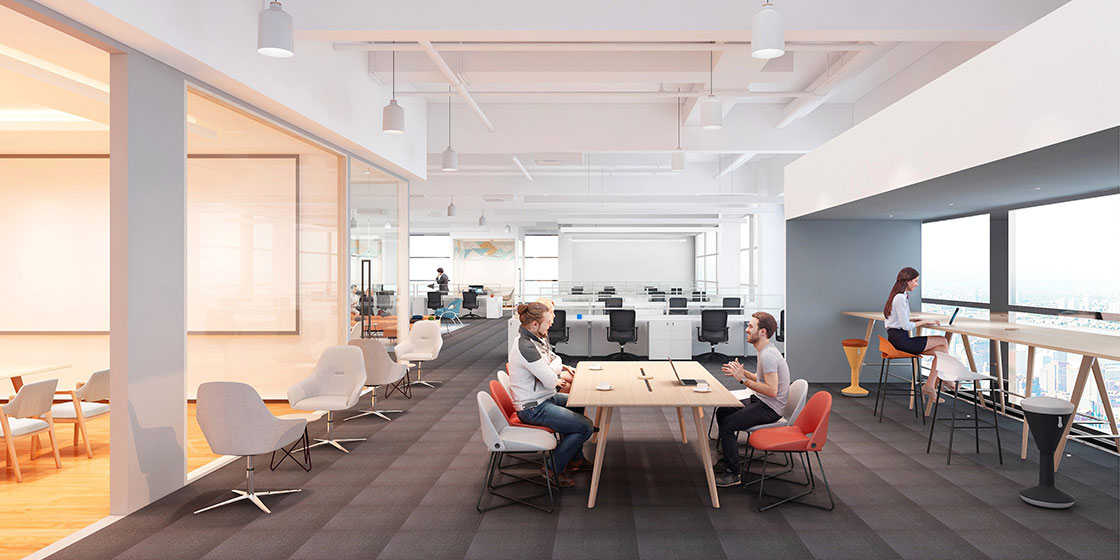 Health and wellness
Hybrid offices mean employees will also work remotely for few days a week. It will provide a better work-life balance, the chance to work without in-office distractions, and avoiding long commutes which promote wellness. In-office, employees should be provided ergonomic workstations and furniture that will enable them to make adjustments based on their personal needs. Choice and control increase employee satisfaction and comfort. Workplace features like biophilic design help to reduce stress and provide a sense of employee well-being.
A space for culture and connections
If a company has all remote workers, then building and maintaining company culture might be a little tricky. That is why in the Hybrid model, the physical office space is vital. Having a physical space inside the office to connect and develop team and mentoring relationships is important not only to individual growth but also to an organization's long-term culture.
Alternative furniture designs
Steer away from the regular furniture designs which have been in the market for years. In hybrid offices, we need spaces and furniture which look welcoming and which will make employees want to come to the office. Look for innovative furniture arrangements that exist for the integration of furniture and technology. The goal is to tailor the furniture, technology, and features of the office to employee needs and the culture of the organization.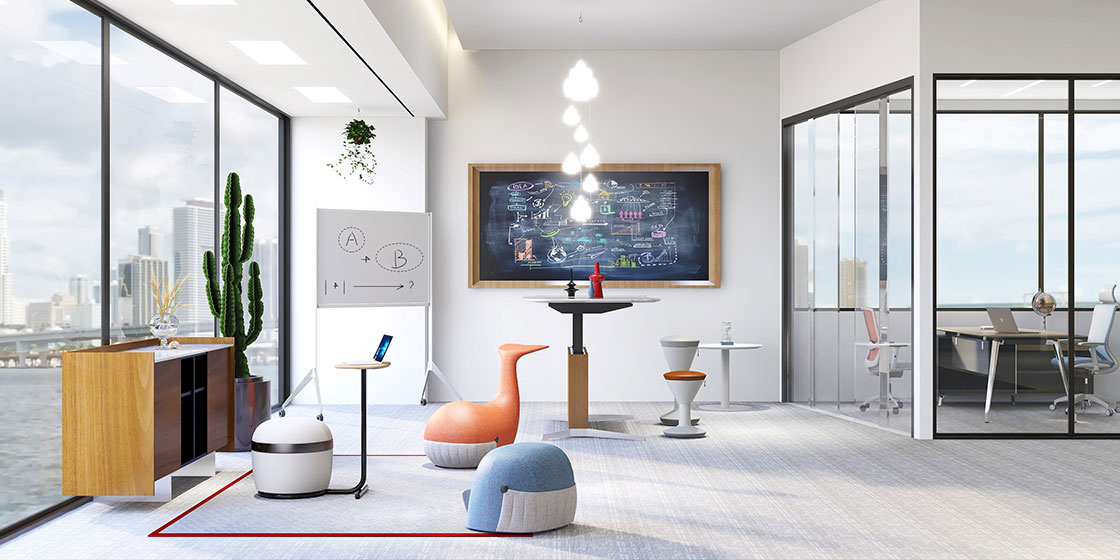 Conclusion
A hybrid office provides an ideal balance of collaboration and focus work. While in the office, teams have the facility and choice of different spaces for collaboration, they also get to work on projects at home with concentration. Businesses need to ponder over the design considerations and create a hybrid environment that effectively meets employees' needs while allowing them to get the most value out of their time spent there.